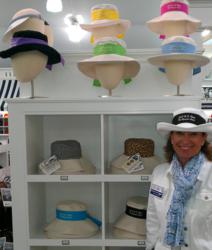 It's the only hat you'll ever need!
San Francisco, CA (PRWEB) June 08, 2012
For the eleventh consecutive year the Sport Buddy hat has been selected by the USGA to be one of a few exclusive vendors at the merchandise pavilion during this year's U.S. Open. The U.S. Open Championship will be held at The Olympic Club from June 11th to June 17th.
The USGA will offer an exclusive and exciting shopping experience on the tournament grounds beginning pre-tournament Thursday, June 7th. The Sport Buddy hat will be available in the merchandise pavilion thru June 17th, the last day of the U.S. Open Championship. This event is a unique opportunity to meet and be personally fitted by Melissa Gotfredson the Founder/CEO & President of this all American enterprise. The Sport Buddy hats are only sold on location at a handful of Major golf tournaments during the summer. Media members as well as the event visitors are invited to come by and say hello.
Melissa Gotfredson, the innovator behind Sport Buddy, has basically reinvented the wheel when it comes to women's sports hats. This experienced businesswoman is always looking for a new challenge so she recently launched a new fashion & style web-site, SunandColor.com. This new endeavor will allow her to share "a few of her favorite things" including, of course, the fabulous Sport Buddy hat.
This great little hat is a patented, reversible, wind-resistant, CRUSHABLE, and completely washable. Sport Buddy has been sun tested by Cal Poly Textile Institute and received a sun rating of UPF 50+. The beloved sun hat has a firm yet flexible brim that may be fashioned into a variety of styles and shapes. "This is the only hat you will ever need", says Gotfredson when asked to describe her Sport Buddy. "Out on a boat, at the beach, or in your red convertible; simply reach back and tighten the sash to keep Sport Buddy nice and snug" said Melissa.
Each and every Sport Buddy hat is sized to the individual purchasing their hat at this event. Sport Buddy is proudly made and manufactured in the U.S.A. with 100% cotton canvas. The Sport Buddy hat comes in both a white, natural, and black canvas with a variety of interior print designs. Additionally there are over 20 sash colors to choose from to allow for that little adjustment in the wind.
For more information on the innovative Sport Buddy hat visit http://www.sunandcolor.com