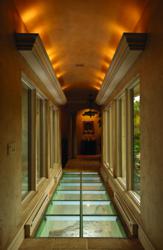 Fort Worth, Texas (PRWEB) June 19, 2012
The owner/designer of this lake lot home was faced with the challenge of building a home on a lot with two small hills divided by a creek. Use of both sites was necessary due to lot restrictions but the owner wanted to devise an attractive and creative solution to "bridging" the space between the two portions of the home. The GlassWalk system did that beautifully while capturing a stunning lake view and creating a space that "visitors to the home keep coming back to."
IBP's GlassWalk™ structural glass flooring system utilizes laminated glass lites from 12" x 12" up to 48" x 48" in size. The concept is based upon IBP's proven 6" glass paver Floor System. This pre-engineered structural floor system increases the visual appeal of the floor, and increases light transmission, while reducing lead times for product fabrication in both residential and commercial applications http://www.ibpglassblock.com/floor/gallerySG.htm .
The GlassWalk system installs easily on-site in a similar fashion to the standard IBP Grid Floor System that utilizes an aluminum grid framework. The laminated glass is available in over thirty different ceramic "frit" patterns. These patterns insure a non-slip walking surface that meets the most stringent codes. An open weave "frit" pattern can be applied to the top surface for slip resistance without an obscurity layer below. This creates the feeling of "walking on air." Special order laminated glass can have company logos, directional signage, or custom patterns screened onto the interior glass surface. Custom radius corners, curves or special size or shape laminated glass can be created. Commercial and residential applications include floors, landings, walkways, stairs and more.
The IBP Floor System creates dynamic, functional structures that harness natural sunlight and also allow artificial light to flow through and illuminate the space below at night. Free design services are available for this and all IBP products.
IBP also offers the original glass block flooring system for residential and commercial applications featuring 6" or 8" glass block pavers. Installations can be viewed at http://www.ibpglassblock.com/floor/gallery6.htm .
For more information contact: IBP Marketing Department, P O Box 425, Ft. Worth, TX 76101. Phone l-800-932-2263 or visit http://www.ibpglassblock.com . Check us out on Facebook at http://www.facebook.com/pages/IBP-GlassWalk-Floor-Systems/111425822221156 .