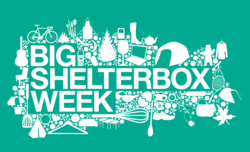 Supporters of all ages around the world are working together to celebrate our relief work
Sarasota, FL (PRWEB) June 08, 2012
ShelterBox USA, the U.S. affiliate of an international disaster relief organization that provides emergency shelter and lifesaving equipment to disaster survivors worldwide, is celebrating Big ShelterBox Week on June 9-16.
Big ShelterBox Week is ShelterBox's annual awareness and fundraising week, where supporters in the U.S. and around the world can join in the fun by participating in one or more initiatives to raise awareness and funds for the organization.
"Supporters of all ages around the world are working together to celebrate our relief work," said Emily Sperling, president of ShelterBox USA.
"We are truly amazed with their efforts to help provide shelter, warmth and dignity to families who have lost everything after a disaster."
The humanitarian relief charity, which responds to disasters such as hurricane, earthquake, flood, tsunami or conflict by delivering boxes of aid to help families rebuild their lives, invites supporters to a Virtual Open House on Tuesday, June 12 at 6 p.m. EDT for a behind-the-scenes look at the organization.
In this interactive webinar, participants will learn where, how and why the organization provides shelter, warmth and dignity to disaster survivors. Leaders from ShelterBox USA, ShelterBox International and a ShelterBox Response Team member will share how a box packed by volunteers can be hand delivered to a family in need following a disaster. Guests are encouraged to bring questions for the question and answer session.
OTHER WAYS TO GET INVOLVED:
Big Camp Out: Spend a night out under the stars. Ask your friends and family to sponsor you to sleep in a tent for a night or a week. You can help families in need simply by getting sponsored to enjoy the great outdoors.
Big Cake Bake: Create your own special treats and hold a bake sale or celebration with friends, family and coworkers. When your party's in full swing, challenge them to find out what's in a ShelterBox.
Big Clear Out: Turn boxes of unwanted goods into boxes of hope by holding a yard sale or online auction, and donate your proceeds to ShelterBox.
Spread the Word via Email: Simply email your friends and family, tell them why you support ShelterBox, and ask them to visit our site, watch our video, or make a donation.
Take the Social Media Challenge: Simply ask your friends to "like" and follow ShelterBox USA on Facebook (facebook.com/shelterboxusa) and Twitter (@shelterboxus). Help ShelterBox USA gain 5,000 new likes or follows through June 16, and national flooring retailer, Lumber Liquidators will donate $5,000 to help five families in need.
Online Fundraising: Create your own customized fundraising page to collect donations and track your progress. Promote your page during your event, in an email, or on social media.
To learn more or to register for the Virtual Open House, visit shelterboxweek.org.
ABOUT SHELTERBOX USA
Since 2000, ShelterBox has provided shelter, warmth and dignity following more than 170 disasters in 80 countries. ShelterBox instantly responds to earthquake, volcano, flood, hurricane, cyclone, tsunami or conflict by delivering boxes of aid. Each iconic green ShelterBox contains a disaster relief tent for an extended family, stove, blankets and water filtration system, among other tools for survival. ShelterBox's American affiliate, ShelterBox USA is headquartered in Sarasota, Florida. Individual tax-deductible donations to ShelterBox USA can be made at http://www.shelterboxusa.org, (941) 907-6036 or via text message by sending SHELTER to 20222 for a one-time $10 donation.
# # #