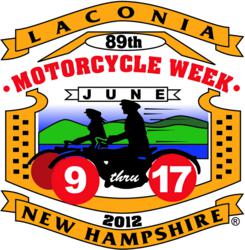 We want people to come for the Rally, see what the Lakes Region and State of New Hampshire has to offer its visitors, and experience the sights, sounds and riding that make Laconia legendary.
Laconia, NH (PRWEB) June 08, 2012
Progressive Laconia Motorcycle Week, "America's Original Riding Rally," rounds out its eighth decade this week and looks forward to celebrating its 90th anniversary next June. The Rally that began humbly in 1916, alongside the roots of the sport of motorcycling, continues to make a significant impact on the town of Laconia, the state of New Hampshire, and the northeast region. Organizers welcome Governor John Lynch and other dignitaries as guests of honor at this year's Rally kickoff.
There's an immediate economic impact brought by the 300,000 riders who descend on the town of 17,000 and a state of just 1.3 million residents each June, then fan out across the entire region for daily rides and events. Beyond that, local and state officials have embraced the Rally, and the exposure to visitors from across the nation and around the world, as a significant economic development opportunity.
Since New Hampshire is just 68 miles wide and 190 miles long, riders can easily visit – and spend money – in every corner of the state, and beyond. The Rally's impact compares favorably to the extended period each fall when the area becomes a mecca for leaf peepers looking to take in the natural glory of the area's trees as they change color.
This provides an excellent venue to recruit riders who visit to consider moving to start a business and "Live Free or Die" in the Granite State. With high rankings nationally and in New England for quality of life, low crime rates and low taxes, state and local economic development organizations tout the state's business friendly rankings and make no secret of their interest in having Rally attendees return to start businesses and become residents.
On the local front, the Rally's official kickoff event is the Peter Makris Memorial Run. Makris was a long-time resident and owner of The Naswa Resort who passed away in 2007. Money raised by the event supports the local fire department, including funds to operate three rescue boats, train staff and buy dive team equipment, including four dive suits, a side-scan sonar device, GPS sonar equipment and two winter diving suits. This ride has been profitable enough in recent years to also support the Easter Seals NH Veterans Count program.
This year, a raffle of a 2012 Harley-Davidson Street Glide motorcycle by Laconia Harley-Davidson will be used to raise $25,000 to support theater arts in the state and expand the Winnipesaukee Playhouse.
For more than three decades, Charlie St. Clair, a Laconia native and the Rally's executive director since 1991, has ridden his motorcycle to Laconia's big sister rally in Sturgis, South Dakota. In 2008, he was inducted into the Sturgis Museum Hall of Fame. Charlie and Rally director Jennifer Anderson co-authored a book on the Rally's history, "Images of America: Laconia Motorcycle Week," which is available in Laconia, on the Rally's official website, on Amazon, and at other outlets.
"We welcome all types of motorcycles and enthusiasts," notes St. Clair. "We want people to come for the Rally, see what the Lakes Region and State of New Hampshire has to offer its visitors, and experience the sights, sounds and riding that make Laconia legendary."
With local, state, and regional support and a major insurance company as title sponsor, the Laconia Motorcycle Week Association and the Lakes Region community are committed to sustaining the Rally and prolonging its economic impact for the next 90 years.
For a complete schedule of the week's events, visit http://www.laconiamcweek.com/Schedule/. For complete lodging and camping options, visit http://www.laconiamcweek.com/Lodging-and-Camping/. While you're visiting the Official Progressive Laconia Motorcycle Week website, be sure to sign-up for the free e-newsletter to learn about new information and special deals!
About Progressive Laconia Motorcycle Week
Progressive Laconia Motorcycle Week, beginning in 1916, is a statewide rally with its epicenter at Weirs Beach, the center of the State of New Hampshire. 2012 marks the Rally's 89th year, one year closer to the BIG 90! The Rally includes nine days of riding and entertainment for motorcyclists from around the country and across the globe. Rally Headquarters is at the Weirs Beach Waterslide during Progressive Laconia Motorcycle Week, located on Route 3, Weirs Beach. Progressive Laconia Motorcycle Week is proudly presented by: Budweiser, Hot Leathers and AMSOIL. Our corporate sponsors include: Jägermeister, Jeremiah Weed, J&P Cycles, Pepsi, The Lobster Pound, Sysco, and V-Twin Promotions. Progressive Laconia Motorcycle Week also thanks the State of New Hampshire for its large financial contribution to the Rally. For more information on the Rally, including schedule, lodging options, and more, visit http://www.laconiamcweek.com. To contact The Laconia Motorcycle Week Association, email info(at)laconiamweek(dot)com, or call (603) 366-2000.