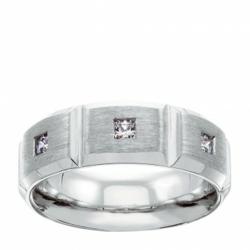 Thank your dad this Father's Day with a present that is guaranteed for life to bring him joy when wearing it
(PRWEB) June 08, 2012
Customers making purchases this Father's Day with Diamond Nexus can now save 15% off all men's jewelry using a special code that is good from June 4, 2012 through June 15th, 2012. Included in this sale will be a bonus offer exclusive to Diamond Nexus.
"We wanted to run a very different kind of promotion this Father's Day. So, now with coupon code CRAPPYTIE our customers can save 15% off all men's regularly priced jewelry and also receive an added bonus. One fashionable tie per customer using this discount code," commented Meg Strobel, Social Media Associate.
"Dads throughout history have long been known to enjoy receiving ties for Father's Day. Well, maybe that is an exaggeration. I know that I have seen a decent amount of dads in my day that bragged about getting ties for Father's Day. Actually, only my dad brags about getting ties for his special day. Anyway, it really seemed like a great idea when we were planning it out," Strobel stated.
"Thank your dad this Father's Day with a present that is guaranteed for life to bring him joy when wearing it," said Jennifer London, Social Media Coordinator. "We are confident that dads are going to be doing back-flips for these ties. Crappy ties can be worn to work, out for dinner, walking the dog and even while sitting on the beach, writing haikus and sipping champagne. Crappy ties go with everything!"
To shop the men's jewelry collection from Diamond Nexus, visit the website at: http://www.diamondnexus.com/mens-jewelry. All ties are non-returnable.
Diamond Nexus was founded in 2004 with the purpose of bringing to the public the powerful benefits of the lab-created diamond simulant revolution. They have over 250,000 customers worldwide that have awarded them an "A+" rating with the BBB, and are the ninth largest online jewelry retailer in America according to the 2011 IR500 list. For two years in a row brides from The Knot have selected them as their Best of Jeweler. Diamond Nexus currently has two retail locations: their flagship store at Woodfield Mall in suburban Chicago, Illinois, and a second store at Mayfair Mall in Milwaukee, Wisconsin. In 2009 the company was named the official jeweler and crown maker of the Miss Universe Organization as part of NBC/Universal's "Green is Universal" environmental initiative.