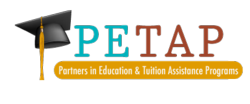 Once a student has identified the best career path, PETAP will lead him or her to the best education choices possible for his or her chosen trade.
GRAND JUNCTION, Colorado (PRWEB) June 11, 2012
Choosing a career can be one of the most daunting undertakings of a young student's life. Partners in Education and Tuition Assistance Programs (PETAP), an online directory that helps connect students with the best colleges for their higher education, knows the importance of this decision, which impacts the rest of a student's life.
This is why PETAP provides personality profiles of nearly 100 different occupations on its website. In order to be a success in any field, PETAP emphasizes that it's important that a student choose the career that matches his or her individual personality traits. Finding the right match will also ensure long-term happiness with whatever career choice a student makes.
For paralegals, the ability to work well under stress is an important personality trait. Adaptability and confidence are also important character traits for paralegals, who often are required to do extensive research and work with a variety of clients.
For those considering a career in the broadcasting industry, PETAP uses elements of the Myers-Briggs Type Indicator personality test. According to PETAP, the Extroverted Sensing Thinking Perceiving (ESTP), Introverted Sensing Thinking Perceiving (ISTP), Extroverted Intuitive Thinking Perceiving (ENTP), and Introverted Intuitive Thinking Perceiving (INTP) fit best with the broadcasting career. An individual in broadcasting needs to have a talent for writing and on-air performing, but these areas are something that aren't intrinsic to one's personality. A broadcasting professional will need persistence and an outgoing, decisive personality to be happy in the field of broadcasting.
If health care or education are a student's area of interest, PETAP recommends a compassionate personality directed toward helping others. Patience and optimism are also necessary for work in either of these fields. Generally, PETAP has found that students who seek these areas of emphasis have those personalities by nature, drawing them toward a field of study that will help others and contribute to making this world a better place.
There are common threads throughout many of the personality descriptions on PETAP's site. Being organized, reliable, and prompt are important no matter what a student's career choice. Showing up for work on time every day and following through with assigned tasks are basic requirements for leaving school and entering the workforce.
Once a student has identified the best career path, PETAP will lead him or her to the best education choices possible for his or her chosen trade. These choices may include online and distance learning options, in addition to educational institutions near the student's home.
PETAP not only helps match students with the education necessary to embark on a lifelong career, but the organization can help connect students with opportunities for financial assistance. With the average cost of a college education topping $8,000 a year, grants, scholarships, and loans are more important than ever. PETAP believes that helping students achieve a college education is key to strengthening our nation's future workforce.