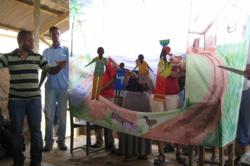 "Children in Ghana are small -- undersized and underweight like many children in developing countries," says NYIT Center for Global Health Director Edward Gotfried, D.O.
Old Westbury, New York (PRWEB) June 13, 2012
Armed with stethoscopes, blood pressure cuffs, and a thirst to heal,15 New York Institute of Technology students, their professors, and a celebrity chef are conducting research and providing medical care in a rural Ghanaian village.
"The students from NYIT's College of Osteopathic Medicine and School of Health Professions are working with celebrity chef Jeff Henderson -- formerly of the high-end Ritz Carlton chain and the Bellagio Hotel -- to research eating habits and promote better nutrition for malnourished children in Oworobong, Ghana.
"Children in Ghana are small – undersized and underweight like many children in developing countries," says NYIT Center for Global Health Director Edward Gotfried, D.O. "Children everywhere say, 'I don't want to eat that!' Chef Jeff is there to look at what's available in the market, what they grow, what they eat, and in particular how he can make vegetables that are locally grown more palatable."
Henderson says he's simply "paying it forward" to help children living in extreme poverty. His 14-year-old son will accompany him on the trip. For the nutritional study, the students and Henderson will measure food, caloric, and nutrient consumption along with age and weight of children aged 5 -12. The researchers will later compare their findings with national nutritional standards and share them with the community for future health education projects.
The trip is the Center's students' fourth journey to Ghana and a clinic established by Center partner the Rohde Foundation. The students will work in the clinic, with the possibility of seeing dozens of patients a day and treating everything from malaria to dysentery.
A special treat awaits the children of Oworobong. In addition to medical care, the NYIT team will deliver colorful, shiny picture booklets of a short story that last year's students developed and used in a puppet show for the villagers. The story revolves around the heroic actions of Anansi the spider, a well-known character for African children, who spins a web to protect young people from mosquitos carrying malaria. The puppet show and booklet are meant to remind children in Oworobong to sleep under bednets.
The students prepared for the trip with an intensive global health course that covered tropical medicine, diseases, global poverty, and the problems of health care in developing nations.
"We're probably going to see a lot," said Mary Duah, a second-year medical student, who has been away from her native country for eight years. "Usually, you have a lot of people who are never diagnosed. I want to get a good idea of common ailments."
In July, NYIT medical student teams will conduct additional research and provide clinical services to rural villages in Haiti and El Salvador as part of the Center for Global Health's outreach program.