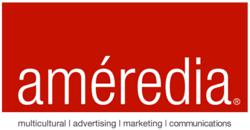 We are honored to receive these recognitions and will continue to further the diversity and inclusion cause within the larger industry framework
San Francisco, CA (PRWEB) June 10, 2012
San Francisco based multicultural marketing agency Améredia, Inc. furthered its diversity vision this week with recognitions from leading industry and community organizations including the American Advertising Federation (AAF), the National Association for Multi-ethnicity in Communications (NAMIC) and the US Pan Asian American Chamber of Commerce (USPAACC).
Pawan J. Mehra, the agency's founder and principal, was named a 2012 NAMIC Next Generation Leader and shared his thought leadership at AAF's ADMERICA! 2012 keynote panel on "The Golden Age of Crossculturalism" in Austin, TX on June 5. The agency was honored the same day at the CelebrAsian 2012 Business Opportunity Conference as a Fast 50 Asian American Business for the third consecutive year by the US Pan Asian American Chamber of Commerce in Bethesda, MD.
"The issue of diversity has always been close to us and taking it mainstream has a special significance", said Pawan J. Mehra, founder and principal, Améredia. "We are now being seen as the vital link in the industry to bring the mainstream and diverse communities together. We are honored to receive these recognitions and will continue to further the diversity and inclusion cause within the larger industry framework."
Mehra was recently recognized by NAMIC alongside with diversity pathfinders Rosalyn Durant, vice president, ESPNU and ESPNHS, ESPN; Sree Kotay, senior vice president, chief software architect, Comcast Corporation; and Fernando Laguarda, vice president, external affairs and policy counselor, Time Warner Cable. Mehra's co-panelists at ADMERICA! 2012 include Laurence Boschetto, president and CEO, Draftfcb; Esther Terrell Franklin, executive vice president, head of SMG Americas Experience Strategy, Starcom MediaVest Group; and Aldo Quevedo, president and chief creative officer, Dieste.
Améredia's partnership with AAF supports the Federation's diversity initiatives and Mehra now serves on its Mosaic Council and Advertising Hall of Achievement Committees. Mehra was also a panelist at the PA-NJ-DE Minority Supplier Development Council annual gala, sharing diverse supplier insights as the Council's "Supplier of the Year" award winner. Améredia continues to serve and empower diverse communities by partnering with organizations like Oakland Digital Arts and Literacy Center (ODALC) and the Association of American Advertising Agencies (4A's) to support their educational and learning programs.
About Améredia
Améredia Inc. (http://www.ameredia.com) is a full-service multicultural advertising, marketing and communications firm specializing in building growth strategies within U.S.-based diverse communities. The agency enables private, government and non-profit organizations to connect with Hispanics, Asians, Europeans, Middle Easterners, Pacific Islanders, Africans and other diverse cultural groups nationwide. Conceptualizing culturally-engaging campaigns across print, TV, radio, online, outdoors, events, grassroots and social media platforms in over 20 leading languages, Améredia is one of the fastest-growing diverse market agencies nationwide.