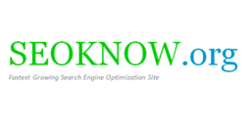 The side panel of SEOKNOW carefully list all the sections one needs to move higher in Google and I particularly enjoy the SEO glossary since I'm a beginner DIY and the simple once only PageRank CAPTCHA
Palo Alto, CA (PRWEB) June 10, 2012
Google has implemented a slew of algorithm changes to its flagship internet search service this year. Many webmasters have complained that these rapid changes have severely damaged their rankings and left search engine optimization practices in uncertainty.
Responding to this common sentiment SEOknow.org announces its enhanced Search Engine Optimization (SEO) Center offering codified SEO help (all certified WhiteHat SEO techniques) to provide site owners and webmasters with some of the SEO secrets that often elude even the most seasoned SEO professionals and hopefully return confidence to the market.
Since its inception in February of this year, SEOknow.org has become the popular choice for legions of Do-It-Yourself (DIY) SEO Beginners as well as a number of SEO Specialists trying to brush up on their skills. SEOknow.org provides all visitors full access to crash courses in the simple easy SEO tactics that many inexperienced webmasters wrongly assume can only be done by the experts. Site visitors can make use of the side navigation pane for browsing various facets of the site: from the SEO checklists to the search engine marketing (SEM) pages. First time webmasters and SEO novices benefit from an SEO glossary purposely built for beginners to use as a reference against the jargon that SEO DIYs are likely to encounter.
Additionally, SEOknow.org offers two online SEO software tools: Domain Informer and Google Rank Checker. The former provides a range of information about an owner's site or a competitor's site including: the domain's Alexa Global Rank, the Load Speed and even the number of backlinks to the domain. The later tool: Google PageRank Checker, an important factor in determining how high a website will be located in Google's Search Engine Result Pages, measures how relevant Google believes a domain is. Moreover, both of these SEO Tools feature SEOknow's One Time CAPTCHA Check; a needed time saver for persons wanting to analyze multiple PageRanks and Domains.
On the Facebook wall of SEOKNOW, John argues, "The side panel of SEOKNOW carefully list all the sections one needs to move higher in Google and I particularly enjoy the SEO glossary since I'm a beginner DIY and the simple once only PageRank CAPTCHA".
Furthermore, in the event that a sought after piece of SEO material cannot be found, the site offers several other competitor's SEO blogs and forums for users to choose. Companion to these extras there are download links to Google's official Search Engine Optimization Starter Guide and a meticulously chosen list of the top SEO Books for those wanting to completely take control of the SEO Process.
About SEOKNOW:
The goal at SEOknow.org is to deliver accurate, trustworthy SEO methods, tips and techniques. But why? The site was developed to subdue the proliferation of other SEO websites affirming outdated and/or completely incorrect information. Examples of such misinformation include claims: Google can't crawl flash or even buying links from shady Link Farm companies are good ways to move up search rankings. SEOknow.org wants to denounce these myths and elevate the standards on what is considered quality search engine optimization. To this effect it grants users access to its tips, effective SEO methods and even its on demand PageRank Checker.