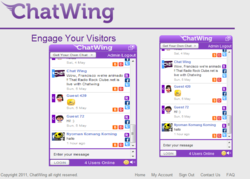 Indianapolis, IN (PRWEB) June 10, 2012
Expanding one's social network can be done with just a few clicks nowadays, and so as seeking romantic partners. The internet and the advent of free social networking media have made connecting so easy, based on the numbers of users registered. When it comes to finding dates online, a web chat application known as Chatwing is gaining popularity in the cyberspace. This chat application is also known for its adaptability.
Chat rooms and chat widgets are required to facilitate online dating. Many users believe that an efficient website chat application should be utilized for interactive activities. Chatwing's latest features are designed to provide users with ease of access and social networking integration.
Chatwing has a very simple premise that benefited a lot of users. Installing it to a blog site won't take much effort and time. In order to embed Chatwing chatrooms to a blog, the user needs to provide his blog domain information. After doing so, he can proceed with the customization of the widget. The user is then allowed to adjust the chat box size, color and name. The last step is to copy the HTML code to be used in embedding Chatwing to the site. In less than a minute, the widget will go live and chat discussions can already begin.
Elaborating on Chatwing's social media integration, users—specifically date seekers—can easily exchange Facebook and Twitter information. This will lead the initial contact to the next level. The Chatwing web chat application can accommodate up to 900 chatters, connecting people from different places in a breeze. Also, getting to know potential mates is less complicated and more fun with Chatwing's cute avatars and cool emoticons. Adding to its key features, the relaxing theme of the Chatwing chat widget makes any topic or discussion more interesting.
About Chatwing.com
Chatwing.com has developed live chat software for websites and blogs. It caters to different online communities due to its high rate of connectivity. Everyone can create a customizable live chat box feature in 1 minute or less. Users have the ability to customize the size, color, and fonts of the chat product. The ability to chat live via social media accounts such as Facebook and Twitter enable Chatwing to offer a personal and unique real-time experience to all sites. Chatwing is 100% free and very easy to use.