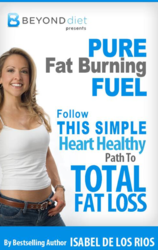 Chicago, IL (PRWEB) June 12, 2012
The simple way to achieve a maximum fat burning diet and ideal body weight is given in a new book by Certified Nutritionist and industry expert Isabel De Los Rios, Pure Fat-Burning Fuel for Total Fat Loss (Velocity House Publishing)
Frustrated gym junkies and dieters will rejoice when they learn how easy it is to reshape their lifestyle for maximum fat loss by eating specifically fat burning foods as part of a fat burning diet and exercise plan. De Los Rios has provided a simple, easy way for anyone to obtain visible results simply by eating these fat burning foods.
The book describes how to identify which fat burning foods contain the best ingredients that have been proven to promote fat loss. It also teaches how to eliminate the wrong foods from your fat burning diet with the help easy to follow meal plans.
The book provides delicious recipes as part of a fat burning diet that are easy to make and easy to incorporate into your daily life. It also provides excellent resources for finding good, fat burning foods even when you're on a budget as so many of us are. There are no calories to count, and no drastic regime that forbids your favorite foods. Pure Fat-Burning Fuel for Total Fat Loss enables anyone to enjoy a fat burning diet while maintaining their ideal weight. There are no pills, supplements, or expensive equipment to buy. Everything that is needed to succeed is contained in this all-inclusive book.
Pure Fat-Burning Fuel for Total Fat Loss is available as an e-book through Amazon.com.
If you would like more information about the book Pure Fat-Burning Fuel for Total Fat Loss, or to set up an interview with Isabel please call: (347) 422-7464. Email: Julia@velocityhouse.com