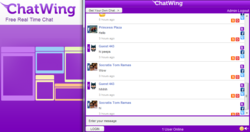 San Francisco, CA (PRWEB) June 10, 2012
Online FM streaming is still considered as one of the best ways to listen to music nowadays. Based on different reviews and recommendations, online FM streaming appeals to a lot of people because web surfing can be done simultaneously. Lately, the Chatwing development team has introduced an efficient chat widget that can improve anyone's online FM streaming experience. Aside from listening to music, the Chatwing chat tool allows the person to discuss music topics with his peers.
Chatwing appears as a simple chat tool for many bloggers, web surfers, and streaming fans. It is intended to be like that because the Chatwing development team believes in the importance of simplicity nowadays. In fact, based on blogosphere statistics, this simplicity has contributed a lot to Chatwing's popularity climb. This proves that people prefer applications with simple mechanisms over others with complicated ones.
Since Chatwing is a widget, it can be installed to most blogs and websites. Bloggers who have used Chatwing for their blogs have noted that the average installation time of the shoutbox takes only a few seconds. This is useful for people who are always busy online. Chatwing is also built to help improve a blog's visibility. By turning the blog into a chatting lounge, it will attract attention in the blogosphere. Bloggers who allow podcasting in their blogs can use the Chatwing shout box to communicate with their visitors. In this way, the potential for social network expansion is high. As an added bonus, Chatwing users can log in using their Facebook or Twitter accounts. This feature is useful for people who want to expand their social horizons.
In order to send out useful information to their users, the Chat Wing chatrooms team maintains a Facebook page. The page is updated with entertaining and informational content regarding the web chat box. There is also an embedded chat tool in Chatwing's main website. In this way, users can try out the chatting experience offered by the widget.
About Chatwing.com
Chatwing.com has developed live chat software for websites and blogs. It caters to different online communities due to its high rate of connectivity. Everyone can create a customizable live chat box feature in 1 minute or less. Users have the ability to customize the size, color, and fonts of the chat product. The ability to chat live via social media accounts such as Facebook and Twitter enable Chatwing to offer a personal and unique real-time experience to all sites. Chatwing is 100% free and very easy to use.