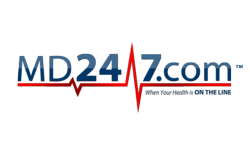 http://www.md247.com
Tampa Florida (PRWEB) June 11, 2012
On Monday, twenty-four hour telephonic doctor network MD247 invited media and patrons nationwide to officially check out the relaunched MD247 blog. The MD247 blog was initially launched as an informational resource for people interested in the subjects associated with telemedicine. The MD247 Marketing Team determined that a single blog created just for the purpose of discussing telemedicine was falling short, and that it was necessary to reconfigure the blog to carry a tone that reflected the humor and humanity of MD247.
The ultimate goal of the MD247 blog reconfiguration is to provide MD247 telemedicine program members, outside readers and people researching specific maladies the opportunity to learn more about topics associated with living healthy life and mix it with a dash of humor.
The MD247 blog is currently curated by MD247 Content Creation Specialist Michelle Germann. Topics range the gamut from telemedicine explanations to humorous reviews of films with fantastic medical technology. The goal of any MD247 blog article is to spark the interest of the reader, potentially engaging that person enough to pose their own questions regarding health and wellness. A "bonus" feature to the new MD247 blog is the "comments" feature, which will allow readers to start leaving their remarks in late June 2012.
Telemedicine connects doctor and patient at any time, on any day of the week, across the miles and from home or work and any other location. The doctor's office is really all of time and space.
Largo, Florida, based MD247.COM (MD247; MD/247; MD 247; M.D.247; MD-247) provides an affordable telemedicine supplement to existing healthcare services. MD247.COM telemedicine program members have unlimited telephone access to a nationwide medical support team, all with just a single phone call to the MD247.COM telemedicine Talk to a Doctor/Talk to a Nurse Hotline. MD247.COM has a virtual platoon of registered nurses; board certified physicians and a support staff available to members for all non-emergency situations. More information about MD247.COM is available online at http://www.md247.com.