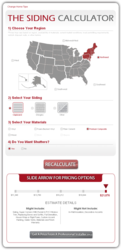 In less than 60 seconds, homeowners can get an idea of how much new siding would cost on their home! The calculator is easy to use and provides specific information pertaining to new siding projects.
-Emilio Bonilla,
of SidingMagazine.com.
Boston, MA (PRWEB) June 25, 2012
SidingMagazine.com's siding calculator tool combines richly textured graphics with a one-click, user-friendly HTML-based interface. Any Internet user can utilize the tool, even newcomers to the World Wide Web. No technical expertise is necessary to navigate this new interactive script.
First-time visitors to the website begin by simply selecting one of 12 architectural styles. Currently, the options to choose from include: cape, ranch, colonial, contemporary, Tudor and Victorian homes. Other variations in architecture are available, too, in order to narrow the options further.
These additional options include cape and ranch style homes with one-car garages, colonial styles with a two-car garage and contemporary colonial homes, as well. The website also accounts for split-level homes and bungalow-style arts and crafts models.
After clicking on the architectural style that best applies, the siding calculator tool directs visitors to the next page automatically. From here, users can select their general region of residence. The options available include the Northeast, Southeast, Southwest, Midwest, and Western regions of the United States. Selecting a location allows the website's calculator tool to collect accurate pricing data since material prices and availability vary across the country.
The next step is where the fun truly begins. Users can choose between clapboard, shingles or other styles of siding. After clicking a general style, the next field displays the options available in the particular style chosen.
For instance, after clicking the shingles option, users can then narrow down their choices further by opting for vinyl, wood, or fiber cement materials. Selecting the others option narrows down the available choices to either brick or stucco siding. The siding calculator tool even provides the option to include shutters in the final estimate.
With one final click, the siding calculator tool compiles all the above information, providing a pricing slider to give users the ability to compare estimates easily. Adjusting the slider allows users to see which additional details may or may not be included in the pricing estimates listed. This feature truly takes the stress out of worrying about hidden costs not included in the usual contractor estimates.
About SidingMagazine.com:
http://www.SidingMagazine.com is a Boston, MA (USA) based publisher of product information and industry research, useful online tools, forecasts, audio, and video information focused on the siding and exterior cladding industry.