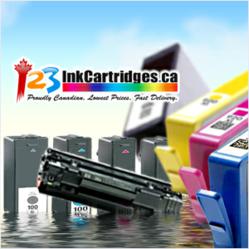 Montreal, Quebec (PRWEB) June 11, 2012
123inkcatridges, an online printers and computer accessories supplier company has announced addition of Brother LC61BK OEM black ink cartridge to its products line. The high quality product will be availed to the customers at the same affordable and discounted price they are used to. The company has been diversifying their products line and inclusion of Brother LC61 OEM black ink cartridge is a clear indication of the company's continued commitment to fully satisfying its clientele needs.
123inkcatridges continues to lead in supplying printers and computer accessories. Customers can visit the online stores and fill the order forms which can be mailed to their various branches in the United States or Canada for processing. The products can then be shipped to the customers within the two countries where there offices are found. With the growth of varying customer needs, it has led to the inclusion of Brother LC61BK OEM black ink cartridge in their products line which has been received with great joy by tech savvies.
The online company has numerous stores around the United States of America and Canada to enable it has all its products ready for shipping with every order made by their customers. To take of the customers' needs, 123inkjet.ca has experienced team of employees to attend to customers 24hours a day. The staff attends to the customers diligently to enable them make informed decision on products to purchase from their online stores. The company continues to offer high quality products at discounted prices.
The Brother LC61 OEM black ink cartridge can be ordered using the following link: http://www.123inkcartridges.ca/brother-ink-cartridge/LC61BK-OEM.html. The customer can also look through the wide range of products found on the company's' site. The friendly team of staff guides a customer to obtain the product of choice with ease. The customer care desk can be contacted at any time of the day as they work around the clock to ensure customer satisfactions are met while maintaining the quality of supplies they make.
All about 123inkcatridges.ca
123inkcatridges.ca is a company well known in supplying computers and computer related accessories. When the company started, it initially specialized in supplying toner printers and cartridges. The company has since then diversified to meet the varying needs of their customers. It is now a well known company all over the world in supplying quality computers and information technology accessories. The company has two offices located in Canada with several storage facilities to enable it fully meet the growing needs of their customers.