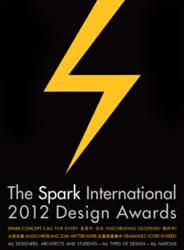 ideas to life
New York, NY (PRWEB) June 12, 2012
"Bringing ideas to life" is the idea behind the Spark:Concept Awards, according to Spark Awards Founder, Peter Kuchnicki. "This design competition seeks out the best work from students around the world—often their graduating portfolio or thesis. By entering design competitions, young designers can launch themselves and their work directly into the professional arena.
"This process gets the best student work out into the mainstream, starting with exposure at the Spark websites and international publicity, leading to selections of ever-higher quality of entries by the elite Spark Jury. First finalists, and finally winners are announced—and even more publicity follows." This system supports efforts to build strong portfolios, demonstrating that top professional designers on the jury recognize the quality of these design ideas. This can help gain the attention of prospective employers and clients and make a strong impression.
Colleges Benefit Too
"Schools and universities also benefit from the competitions," Kuchnicki said, "A strong showing from a school reflects well on their teaching and curriculum and raises international awareness about their programs."
SPARK:CONCEPT FOR PRO'S, TOO
Although many Concept entries naturally come from students, this competition is also for professional entrants. "Spark:Concept is for all designers who want to communicate to the world that their ideas are cutting edge," stated Spark Director Clark Kellogg. "If the design is a brilliant idea, it deserves exposure. It can help establish credibility, promote the designer and even go viral. It makes good marketing sense."
TWO DEADLINES APPLY
Spark:Concept has two deadlines that apply to student work, relating to school calendars. For Spring and Summer semesters, the deadline is July 15. For Fall Semesters, the deadline is October 7. (Professionals are on the Fall schedule.) The Call For Entry is currently open for both schedules.
SPARK:CONCEPT JURY
The 2012 Jury is being formed, and already has some prestigious participants, including:
Jury Chair: Ravi Sawhney, FIDSA, CEO & Founder, RKS Design, Santa Monica
John Danner, Senior Fellow, The Lester Center for Entrepreneurship, Haas School of Business, UC Berkeley
Peter Stathis, Principal, Virtual Studio
Sungjoon Kim, Partner, Stylesays.com
DEFINITIONS
The Spark:Concept Awards are for work that is in the idea stage. For example, this could include architectural concepts, concept automobiles and design student work. It is not for spec work or work intended for production or commercial realization. The emphasis is on ideas.
Spark:Concept is for any discipline of design. This includes graphic design, product, UX, motion, architecture, interiors, transportation and others.
The competition is entirely "virtual." It is entered and conducted online, over the Spark website. No materials, boards or designs are delivered to Spark:Concept, potentially a large cost-savings for the entrant.
HOW TO APPLY
The method of entering Spark:Concept is a simple process. The entrant reviews all the pertinent information at http://www.sparkawards.com; gathers the specified entry media; fills out the entry forms and uploads the work. To begin, they need to register at the site.
SPARK SPONSORS, FOUNDERS PROGRAM & PARTNERS
For 2012, these supporters include Autodesk, ArchNewsNow, Archinect, Bustler, Design Month and Essential.
Spark:Concept is one of five Spark Design Awards. More information about this organization and these competitions can be found at http://www.sparkawards.com
---------------------------------------------------------------------------------------------------------------------
Bonus Background Info:
RECENT ALUMNI SPARK JURIES
Each year Spark is honored to present another fresh group of very talented judges. Each new bench of jurors is gathered with the help of our Jury Chairs, Advisers and Community members. The Jurors come from across the spectrum of design disciplines, media, educators and other experts.
2011 JURY
Andreas Harlow, Design Director, NIKE, Portland
David Mocarski, Chair, Environmental Design, Art Center College
Gadi Amit, New Deal Design, San Francisco
Dan Harden, President, Whipsaw, San Jose
Cathy Huang, President, China Bridge, Shanghai
Imre Molnar, Dean, College for Creative Studies, Detroit
James Parr, Innovation Director, Imaginals, Ltd. London
Stanley Saitowitz, Design Principal, Natoma Architects, San Francisco
John Skidgel, UX Designer, YouTube / Google Inc.
Leslie Speer. Associate Professor, Art & Design, San Jose State University
Michael Cronan, Principal, Cronan, San Francisco
Charlie Sheldon, Design Director, Link Design & Acting Dean, Industrial Design, CCA
2010 JURY
Executive Jury Co-Chair, Chee Pearlman
Michael Vanderbyl, Executive Jury Co-Chair, Principal, Vanderbyl Design
John Barratt, CEO, Teague
Sally Dominguez, Partner, B. Architecture and Rain Water Hog
Rob Curedale, Curedale Design
Adam Brodsley, Partner, Volume Design
Thom Faulders, Faulders Studio Architects
Tucker Viemeister, Lab Chief, Lab at Rockwell Group
Gaby Brink, Principal, Tommorowpartners
Scott Stropkay, Co-Founder, Essential Design
Ken Musgrave, Director, Experience Design, Dell
Heather Fleming, CEO, Catapult Design
Margaret Gould Stewart, User Experience Manager, YouTube
Kerry Tremain, Graphic Designer & Author
Susan Rockrise, Brand Design, Susan Rockrise + Associates
Bryant Yeh, Principal, Yeh Studio Architects
Peter Strathis, Virtual Studios