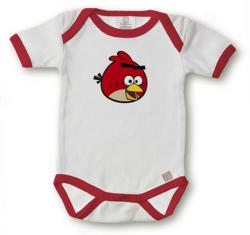 With summer near, everyone is looking for funny baby clothes and toddler t-shirts with clever sayings.
Aberdeen, NJ (PRWEB) June 13, 2012
Kiditude® released a new line of funny baby clothes this week including Angry Birds, iPood, AB/CD, Baby Gaga parody one pieces and funny toddler t-shirts.
The new Angry Birds licensed apparel comes in three popular colors including white with red piping featuring the red Angry Bird, white with yellow trim showcasing the yellow Angry Bird and a white and blue ringer bodysuit with the blue Angry Bird.
The recent release of Angry Birds Space as iPhone and iPad applications has created a resurgence of interest in Angry Birds apparel. "Everyone has their favorite Angry Bird," says Brown, owner, "all three colors are equally popular typically based on the gamers tactic for how they use the bird in the app." Angry Birds baby one-pieces are priced at $21.95.
New designs include iPood, a parody of the iPod and AB/CD, a parody of the logo for the band AC/DC. "With the summer season approaching, consumers are looking for cute t-shirts and baby bodysuits with funny sayings," said Brown. These shirts can be purchased individually or as a gift set containing both items and are affordably priced at $16.95 for a single piece or $30.00 for the set.
The Baby Gaga design features a crawling baby wearing sunglasses and comes on a baby one-piece bodysuit, infant or toddler t-shirt and is priced at $15.95.
Popular funny toddler t-shirts include the biker and motorcycle designs like, "My Dad is a Biker", those that compliment the mom like, "My Mom is a Hottie", and those that celebrate the humor that comes with raising children such as "My Name is Not No". Funny toddler t-shirts are priced at $15.95.
Kiditude is beginning with black and white in sizes ranging from newborn to 4T with plans to expand to additional colors and sizes. All funny baby one pieces, toddler t-shirts and licensed apparel are printed on 100% cotton garments.
In addition, Kiditude has expanded its selection of rock baby clothes featuring bands like AC/DC, The Beatles, Bob Marley, Johnny Cash, KISS, Metallica, Michael Jackson and Pantera as well as punk baby clothes, cool baby hats, skull crib shoes, novelty baby bibs, expression pacifiers and rock lullaby music CDs.
Kiditude assists gift givers with one-on-one shopping assistance via phone or email, the Kiditude Blog, offering theme gift sets, gift wrapping services and gift message cards. For those gift buyers who still aren't sure what to buy, Kiditude has gift certificates in any denomination starting at $25.
International purchasers benefit from the currency converter on the website. Kiditude offers low cost standard shipping, express shipping and orders over $75 ship free within the USA.
Kiditude encourages customers to "Like" Kiditude on Facebook and "Follow Us" on Twitter. Facebook and Twitter are where customers receive valuable coupon codes, customer product reviews and new product announcements.
Company Information:
Kiditude Apparel provider of cool apparel for kids with attitude has offices in New Jersey. Kiditude's special collection includes cool rock onesies and t-shirts for babies and toddlers, punk baby clothes and unique baby shower gifts.