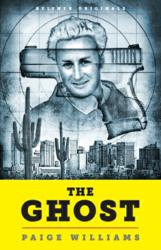 New Byliner Original by National Magazine Award Winner Paige Williams
San Francisco, CA (PRWEB) June 12, 2012
Five shots to the head. That's how a young armored-car guard named Keith Palomares lost his life one sunny morning in 2004 while making a routine stop at a strip mall in Phoenix, Arizona. As Palomares lay dying on the sidewalk, his murderer escaped on a mountain bike with a duffel bag of stolen cash. Almost eight years later, the suspected killer, Jason Derek Brown, is still at large, nowhere to be found except on the FBI's infamous Ten Most Wanted List. The smiling face in the mug shot, framed by tousled blond hair, is like a taunt: "Just try to find me," he seems to say. "I spent my life fooling people. I'm doing it still." But time could be running out for the suspected murderer. Two new fugitives have recently replaced Osama bin Laden and Whitey Bulger on the Ten Most Wanted List. New fugitives mean fresh attention paid to the list. And that means more leads on the whereabouts of ghosts such as Jason Brown.
The Ghost, by Paige Williams, just published by Byliner, tells the mysterious and chilling story of Brown, the most unlikely fugitive in recent memory. Brown was a golden boy, born to privilege and raised in a seemingly righteous Mormon family in Laguna Beach, California. But there were cracks in the perfect facade. Brown's father was a gambler and a con man, leading a secret life of deception. As a Mormon missionary and young husband, Jason Brown seemed determined not to follow the same path. But, like his father, he couldn't resist temptation. Lying and cheating became Brown's new religion, and Mormonism didn't stand a chance. Brown's fierce desire for the unearned good life allegedly took him over the edge—to cold-blooded murder. Ten years after his father simply vanished without a trace, Jason Brown did the same thing. A poisoned legacy.
In the rich tradition of the best crime narratives, Williams masterfully examines the forensics of Brown's enigmatic life and the disturbing last days before his disappearance. She meticulously describes the tragic shooting of Keith Palomares and takes us behind the scenes with the homicide detective and FBI agent who have been trying for years to find Brown. Officials are convinced that he's out there somewhere, his mystique growing as he remains in the shadows.
"He left his family with artifacts of a life interrupted, unexplained, unfulfilled," Williams writes. "He left Arizona as Phoenix scrambled to find the killer of a twenty-four-year-old armored-car guard, shot five times in the face. He left it all and still he lingers, because that's what ghosts do. They haunt."
Paige Williams's narrative journalism has been anthologized in multiple volumes of The Best American Crime Writing and The Best American Magazine Writing. A National Magazine Award winner for feature writing, she is a former fellow of the Nieman Foundation for Journalism at Harvard, where she now teaches narrative nonfiction.
Byliner publishes compelling works of original fiction and nonfiction written to be read in a single sitting. Among its bestselling titles are Amy Tan's Rules for Virgins, Jon Krakauer's Three Cups of Deceit, Ann Patchett's The Getaway Car, Rachel Corbett's A Killing in Iowa, Elizabeth Kaye's Lifeboat No. 8, Margaret Atwood's I'm Starved for You, Jess Walter's Don't Eat Cat, and Mark Bittman's Cooking Solves Everything. The companion website, Byliner.com, features curated archives of the best fiction and nonfiction writing and allows readers to easily find, share, and buy new and classic stories by their favorite authors.
The Ghost is available for $1.99 as a Kindle Single at Amazon, a Quick Read at Apple's iBookstore, and a NOOK Snap at BN.com.
For a review copy, please contact Clare Hertel at clare(at)byliner(dot)com; 505-474-6783.