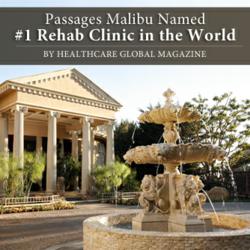 "What makes Passages stand out from other rehabilitation clinics is its unique treatment programme," says Healthcare Global magazine editor Abbie Smith.
Malibu, CA (PRWEB) June 11, 2012
Passages Malibu, the industry leader for luxury, holistic, non-12 Step addiction treatment centers, has been named No. 1 on Healthcare Global magazine's list of the Top 10 Rehabilitation Clinics In The World in their June 2012 issue, out today (June 11).
In the article, Healthcare Global editor Abbie Smith writes, "What makes Passages stand out from other rehabilitation clinics is its unique treatment programme. [Passages] steers away from popular 12 Step approaches and uses holistic methods of treatment instead. Crucially, it does not view addiction as a disease; it believes addiction is something that can be cured by focusing on the patient's underlying issues. Patients are treated as individuals in a five-star, 10-acre setting, overlooking the Pacific Ocean."
"We're thrilled to be recognized by such a reputable brand as Healthcare Global," says Pax Prentiss, CEO and co-founder of Passages Malibu and Passages Ventura. "We are constantly looking at what we can do better at Passages and it's nice to be recognized for our staff's dedication and hard work."
Over the years, Passages has been honored with several industry recognitions, such as earning the Joint Commission on the Accreditation of Healthcare Organizations accreditation for both the Passages Malibu and Passages Ventura rehab centers. JCAHO only gives this stamp-of-approval to 6% of the national behavioral treatment programs. PETA (People for the Ethical Treatment of Animals) has also recognized Passages drug and alcohol rehab center as a "Top 5 Vegetarian-Friendly Rehabilitation Center" for providing their clients with healthy vegetarian options.
And, Forbes magazine named Passages Malibu on their list of the "Most Luxurious Places To Dry Out." Passages even has fans on the hottest new social media site, Pinterest, where Rehabs Advisor: The Nation's Best Rehabs has included them in their pinboard for their favorite Luxury Rehabs.
About Passages Malibu & Passages Ventura:
Founded by Chris Prentiss and Pax Prentiss, Passages Malibu opened in 2001 with its second location, Passages Ventura, opening in 2009. The two drug and alcohol abuse treatment centers offer an alternative to the 12 Step/AA model of addiction treatment by taking a holistic approach with a program that focuses on the underlying issues of substance dependency, rather than suggesting that addiction is an incurable disease. Passages Malibu and Passages Ventura have earned the coveted JCAHO (Joint Commission on the Accreditation of Healthcare Organizations) accreditation, which has only been given to 6% of the nation's behavioral health treatment programs. The co-founders are also authors of the acclaimed series of treatment books that include their groundbreaking flagship book, "The Alcoholism & Addiction Cure." At Passages, we believe: Addiction Ends Here™. For general inquiries about treatment, contact: 866-233-1753
For media inquiries, contact:
press(at)passagesmalibu(dot)com