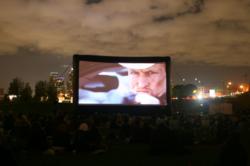 Los Angeles, CA (PRWEB) June 12, 2012
Eat|See|Hear presented by Fandango is co-produced by the former audio-visual producer of the acclaimed Outdoor Cinema Food Fest and launched in Santa Monica on May 26th 2012 showing the film Anchorman. Eat|See|Hear features the only three-story tall, outdoor HD movie screen west of the Mississippi featuring a 52-foot wide image. Gourmet food trucks and live music from the best of LA's burgeoning music scene round out each Saturday night creating the definitive Los Angeles summertime destination for movies, music, food and fun.
Most recently, Eat|See|Hear stopped in Pasadena on June 2nd showing The Wedding Singer in front of City Hall. Next stop for this traveling extravaganza is in San Pedro at Bloch Field near the Port of Los Angeles this Saturday June 16th showing The Goonies with local act King Washington performing. Food trucks that will be on site include Ta-Bom, Fatburger, The Bun Truck, Dogtown Dogs, Attack of the Killer Carnitas and more. On June 23rd the event returns to Santa Monica High School's Memorial Greek Theater with The Big Lebowski.
Every Saturday KROQ will give away Oogie's Gourmet Popcorn to anyone that either downloads the Fandango mobile phone app or shows that they have one on their phone. Other giveaways include complementary coffee from Coffee Bean and Tea Leaf and movie snacks from Zipcar. Fans that follow the various food trucks and sponsors' Twitter feeds will have a variety of chances to win passes to different screenings throughout the season.
Eat|See|Hear offers an alternative to the popular Hollywood Forever Cemetery Screenings without the long lines, plenty of room to spread out with your friends, dogs welcome at many events and free parking at most locations.
Doors open at 5:30 with live music at 7pm and the film screening at 8:30pm
General Admission Passes are $10
Fashionably Late Passes are $20 which are premium, reserved seats in a prime location of the venue with a dedicated line at the entrance.
Join Eat|See|Hear and more than 3,300 online fans on Facebook or Twitter for the latest news and updates.
SCHEDULE
June 16 – Movie: The Goonies / Music: King Washington
Bloch Field
Port of Los Angeles
1500 S Harbor Blvd.
San Pedro, CA 90731
June 23 – Movie: The Big Lebowski / Music: George Glass
Memorial Greek Amphitheater
Santa Monica High School
601 Pico Blvd.
Santa Monica, CA 90401
June 30 – Movie: Zoolander / Music: Aquarium Drunkard presents The Orwells
Paul Revere Charter Middle School
1450 Allenford Ave.
Los Angeles, CA 90049
July 7 – Movie: Dazed & Confused / Music: The Little Ones
FIDM / Grand Hope Park
919 South Grand Ave.
Los Angeles, CA 90015
July 14 – Movie: Pee-Wee's Big Adventure / Music: Max & the Moon
Bloch Field
Port of Los Angeles
1500 S Harbor Blvd.
San Pedro, CA 90731
July 21 – Movie: Tommy Boy / Music: Nightmare and the Cat
North Hollywood Recreation Center
11430 Chandler Blvd.
North Hollywood, CA 91601
July 28 – Movie: Princess Bride / Music: State to State
Paul Revere Charter Middle School
1450 Allenford Ave.
Los Angeles, CA 90049
August 4 – Movie: Purple Rain / Music: Act As If
Marina Green Park
386 East Shoreline Dr.
Long Beach, CA 90802
August 11 – Movie: Friday / Music: Alex Mac
Hollywood Recreation Center
1122 Cole Avenue
Los Angeles, CA 90038
August 18 – Movie: Ghostbusters / Music: Montë Mar & Vinnie Ferra
La Cienega Park
8400 Gregory Way
Beverly Hills, CA 90211
August 25 – Movie: Pretty in Pink / Music: LA Font
Marina Green Park
386 East Shoreline Dr.
Long Beach, CA 90802
September 1 – Movie: Kill Bill Vol. 1 / Music: Raheem Cohen
Edward Roybal Learning Center
1200 West Colton Street
Los Angeles CA 90026
September 8 – Movie: The Three Amigos / Music: tbd
Northridge City Little League Park
18805 Devonshire St.
Northridge, CA 91324
September 15 – Movie: The Karate Kid / Music: So Many Wizards
Westwood Recreation Center
1350 South Sepulveda Blvd.
Los Angeles, CA 90025
*Venues, movies, music & food trucks subject to change – check http://www.eatseehear.com for possible updates to the schedule.
ABOUT TRAILHEAD MARKETING, INC.
Trailhead Marketing merges great ideas and sharp execution to create unique brand experiences. Through memorable stunts or events, new media, promotions that drive business, partnerships that expand reach and enhance brand perceptions, or fully integrated marketing programs featuring all these tactics and then some, Trailhead will guide brands down the path to reach their marketing goals. Recent clients include Showtime, Fiat, Skype and Hilton Hotels Worldwide.
ABOUT HOLLYWOOD OUTDOOR MOVIES
Hollywood Outdoor Movies is the leading outdoor screening production house with the largest outdoor movie screens in the Western United States and the only outdoor movie company utilizing dual 2k projectors combined to project a full High Definition 30,000 lumen image on a motion picture screen. Clients include NBC Universal, The Weinstein Company, BAFTA, AMC Theatres, Univision, Toyota, Fiat, Goldenvoice, Coachella, Harman, Reef and Etnies. HOM is the trusted source when Disney/Pixar produces an outdoor movie event. Parent company EAJ Media specializes in various forms of creative media.
ABOUT FANDANGO
Fandango, the nation's leading moviegoer destination, sells tickets to nearly 20,000 screens nationwide. Fandango entertains and informs consumers with reviews, commentary, celebrity interviews and trailers, and offers the ability to quickly select a film, plan where and when to see it, and conveniently buy tickets in advance. At many theaters, fans can print their tickets at home or receive them as a paperless Mobile Ticket on their smartphones.
Fandango is available online at http://www.fandango.com, via smartphones, tablets and other mobile devices, and at 1-800-FANDANGO. Fandango's top-ranking movie ticketing apps, with over 22 million downloads, are available on the iPhone and iPad, Android, BlackBerry, Windows Phone 7 and many other platforms. Fandango is enjoyed by more than 30 million online and mobile visitors per month. Film fans find Fandango on Facebook at http://www.facebook.com/fandango and on Twitter @Fandango.