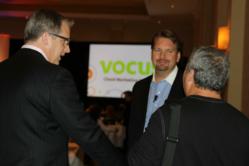 Engagement is not raining down on people and hoping they get wet.
Beltsville, MD (PRWEB) June 11, 2012
"Engagement is not raining down on people and hoping they get wet," So said Rick Rudman, Chairman and CEO of Vocus (NASDAQ: VOCS) during his opening remarks at the annual Vocus Users Conference. Approximately 400 people attended the conference which was held on June 7th and 8th at Baltimore's Inner Harbor.
The event was headlined by Help a Reporter Out (HARO)-founder turned Vocus VP and Small Business Evangelist Peter Shankman, who is also known for his affinity for skydiving. Shankman "skydived" into the event on a Vocus branded parachute – just prior to his keynote speech – and to the enjoyment of attendees.
"Forget about the technology for a moment," said Shankman during his keynote presentation. "Just focus on being likeable." His presentation, it's worth noting, earned accolades as well.
"@petershankman delivers hilarious opening keynote at ‪#vocus‬ conference. Theme: Be likeable on social media. Good things will follow," wrote Ragan Communications CEO Mark Ragan on Twitter.
Ragan, who later offered a presentation of his own on Brand Journalism, also earned stellar reviews. "Content is at the very center of today's brand strategy," read one slide in his presentation which underscores the evolution of marketing. With his permission, his presentation was uploaded to SlideShare and attracted so much attention it was quickly promoted to the front page.
Elizabeth Shea, of SpeakerBox PR, keyed in on Lee Odden's content marketing presentation: "Search Marketing Know-how for Attracting More Customers." In a blog post that recapped the session, and addressed to content marketers, she highlighted Odden's point that for B2B companies, "relationship building is even MORE important than perhaps on the B2C side."
"Romance," Shea continued citing Odden, "has to happen in B2B for people to buy. Delivering right content is the right way at the right time is the key to making that happen."
And making that happen just might require a mobile strategy. Tim Reis, Head of Mobile & Social Solutions, Americas at Google, said the next five years will be about "SOLOMOCO." SOLOMOCO is the articulation of Google's vision in an acronym that represents four fundamental trends in marketing: social, local, mobile and commerce.
Jim Joseph, President, Cohn & Wolfe North America, provided his Business Branding Bootcamp workshop, and noted the significant impact consumer comments have had on marketing and PR.
"Consumer comments have become such an influential touchpoint for engaging other consumers and motivating sales," he wrote in a blog post titled, "Embracing Reviews" following the conference. "In fact, even anonymous comments are often found to be more credible than a brand's own marketing efforts."
Dayna Steele, a Fast Company blogger and author of "Rock to the Top" had a more motivational persuasion to her message of helping people find their "inner rock star." Her analogy is based on her real world relationship with rock stars like Gene Simmons and Billy Idol and she left marketing and PR attendees with four tips: have passion, knowledge, networking skills and discipline.
"There are a lot of really talented people out there you'll never hear of because they didn't have the discipline to do what it takes to be successful," said Steele.
The Vocus Users Conference is one of a kind in an industry that brings together some of the brightest minds in the industry. The annual two-day event provides a mix of software training, thought-leadership sessions and panel discussions aimed at enabling customers to derive more value from Vocus' products and also provide thoughtful analysis on current and future trends in marketing. Many of the sessions were recorded and will be offered as virtual event on Wednesday, July 18,, 2012 – an announcement is forthcoming.
"The Vocus Users Conference is a tribute to our customers," said Vocus CMO Jason Jue. "We sincerely thank our customers, speakers, and employees who worked tirelessly to create an environment where we could all share and learn from each other."
About Vocus
Vocus, Inc. is a leading provider of cloud marketing software that helps businesses reach and influence buyers across social networks, online and through media. Vocus provides an integrated suite that combines social marketing, search marketing, email marketing and publicity into a comprehensive solution to help businesses attract, engage and retain customers. Vocus software is used by more than 120,000 organizations worldwide and is available in seven languages. Vocus is based in Beltsville, MD with offices in North America, Europe and Asia. For further information, please visit http://www.vocus.com or call (800) 345-5572.
Forward-Looking Statement
This release contains "forward-looking" statements that are made pursuant to the Safe Harbor provision of the Private Securities Litigation Reform Act of 1995. These statements are predictive in nature, that depend upon or refer to future events or conditions or that include words such as "may," "will," "expects," "projects," "anticipates," "estimates," "believes," "intends," "plans," "should," "seeks," and similar expressions. This press release contains forward-looking statements relating to, among other things, Vocus' expectations and assumptions concerning future financial performance. Forward-looking statements involve known and unknown risks and uncertainties that may cause actual future results to differ materially from those projected or contemplated in the forward-looking statements. Forward-looking statements may be significantly impacted by certain risks and uncertainties described in Vocus' filings with the Securities and Exchange Commission.
The risks and uncertainties referred to above include, but are not limited to, risks associated with possible fluctuations in our operating results and rate of growth, our history of operating losses, risks associated with acquisitions, including our ability to successfully integrate acquired businesses, risks associated with our foreign operations, interruptions or delays in our service or our web hosting, our business model, breach of our security measures, the emerging market in which we operate, our relatively limited operating history, our ability to hire, retain, and motivate our employees and manage our growth, competition, our ability to continue to release and gain customer acceptance of new and improved versions of our service, successful customer deployment and utilization of our services, fluctuations in the number of shares outstanding, foreign currency exchange rates and interest rates.