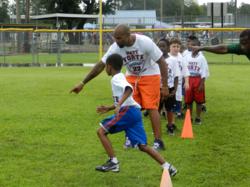 I really wanted to come back and show my appreciation.
(PRWEB) June 12, 2012
Standout Chicago Bears' Running Back, Matt Forte returned to his hometown of Slidell, LA on Saturday, June 9th to host a free youth football camp for campers, ages 7-14. Matt partnered with the Slidell Youth Football Association, where he got his start as a young football player. Even with the forecast of showers throughout the day, the weather was not a deterrent for the nearly 300 participating campers and onlookers.
Matt's mission was to strengthen the campers knowledge of key football fundamentals and help maximize their natural ability. Many of Matt's former teammates from Slidell High and Tulane University supported Matt in his mission to mentor youth through football by volunteering as coaches. Matt also enlisted coaches from Slidell's local high schools including Salmen, Northshore and Slidell to provide instruction on the field. They taught the campers agility drills and proper form with an emphasis on specialized position specific instruction, on both offense and defense.
After the on-field instruction, the campers sat down for lunch from Popeyes Louisiana Kitchen and the mentoring segment of the camp, dubbed "Chalk Talks." Matt encouraged the group to always give their best, whether it is in the classroom or on the football field. He also spoke about his time in SYFA and working hard to get to the NFL, with the message being that anything is possible if the young campers put in the time and effort.
"SYFA is a great program and it was a significant part of my overall football experience." Said Forte, "I really wanted to come back and show my appreciation. I also wanted to motivate the campers and do my part to strengthen the SYFA organization."
In addition to the "Chalk Talks," Matt presented special hustle awards to campers who showed outstanding sportsmanship during the camp. One of the camp's highlights was Matt's surprise announcement that he would donate $15,000 worth of equipment to SYFA. Matt hopes that the donation will help eliminate some of SYFA's costs thereby making it more affordable and accessible for local youth who want to play football.
From the SYFA Board and Ladies Auxiliary to city officials, the Slidell community graciously responded to Matt's community efforts with an outpouring of support to ensure the camp's success. Matt received special proclamations and presentations from Slidell Mayor Freddy Drennan, Slidell Chief of Police Randy Smith and the Slidell City Council.
The 2012 Matt Forte Youth Football Camp was sponsored in part by Slidell Youth Football Association, PowerAde, LaMarque Ford, Intercontinental New Orleans, Ray Masker McDonald's, Total Facility Maintenance, Inc., Pontchartrain Foods Popeyes Louisiana Kitchen, NFL, Dow Lohnes Sports & Entertainment, Jamba Juice, NFLPA, Dick's Sporting Goods, PopChips and Alternative Tees.
To view camp photos please visit: http://on.fb.me/Kox5Bi