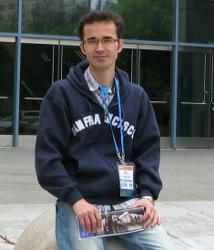 Bellingham, Washington (PRWEB) June 12, 2012
Iran's sentencing of SPIE member Omid Kokabee to 10 years in prison has led to a second letter from a coalition of optics organizations on his behalf.
Signing the 7 June letter were presidents of the International Commission for Optics, the European Optical Society, the Optical Society (OSA), and SPIE, the international society for optics and photonics.
The letter was addressed to Grand Ayatollah Ali Khamene'i, Supreme Leader of the Islamic Republic of Iran, in care of the Iranian ambassador to the United Nations, Mohammad Khazaee.
"The international optics community is particularly concerned with the threat to scientific freedom and academic research that Mr. Kokabee's trial and imprisonment represent," the letter says. It raises concerns that Kokabee's imprisonment "may lead to the exclusion of Iranian researchers from international collaboration."
Kokabee, an Iranian graduate student who has been imprisoned in Tehran since February 2011, was sentenced on 13 May for allegedly conspiring with foreign countries against Iran. He had been charged with communicating with a hostile government and receiving illegal earnings.
A recent petition was launched by the Committee of Concerned Scientists to generate support for an appeal to Iran for Kokabee's release.
Kokabee, 29, is a graduate of Sharif University of Technology in Tehran who later studied at Universitat Politècnica de Catalunya in Spain where he obtained a master's degree in photonics. Currently he is a PhD student at the University of Texas at Austin in the Department of Physics.
He was arrested at the airport and held in Evin Prison in Tehran after a visit to his family in Iran last year.
The letter is signed by presidents Hervé Lefèvre (European Optical Society), Duncan Moore (International Commission for Optics), Tony Heinz (OSA), and Eustace Dereniak (SPIE).
About SPIE
SPIE is the international society for optics and photonics, a not-for-profit organization founded in 1955 to advance light-based technologies. The Society serves nearly 225,000 constituents from approximately 150 countries, offering conferences, continuing education, books, journals, and a digital library in support of interdisciplinary information exchange, professional growth, and patent precedent