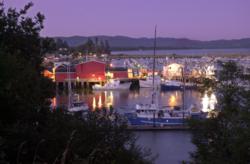 ILWACO, WA (PRWEB) June 12, 2012
Melding two great joys of summer – listening to live music and eating outdoors, Blues and Seafood (Aug. 17 & 18) and Jazz and Oysters (Aug. 19) take center stage in a line up of events on Southwest Washington's Long Beach Peninsula. These and other food and/or music events are scheduled into November 2012 at this sought-out vacation destination.
Blues and Seafood will bring top regional blues bands, fresh seafood, micro brews, fine Northwest wine and barbequed Willapa Bay oysters to the Ilwaco waterfront, on Aug. 17 and 18. The event will open with the Friday Night All Star Jam, featuring the Coyote Kings and North Coast Blues Band, from 6 to 10PM, and will pick up on Saturday, from 3:30 to 10PM, with Boogie Bone, the Strange Tones with the Volcano Vixens, Portland's own Norman Sylvester Band, and headliner The Heat Breakers, a compilation of the region's finest female blues artists. Tickets, available for purchase online, are $10 for Friday, $20 for all day Saturday, and $35 for a combo ticket to Saturday's Blues and Seafood and Sunday's Jazz & Oysters.
Jazz and Oysters will transform Wilson Field (25815 Sandridge Road, Ocean Park) into a veritable, outdoor jazz club on Sunday, Aug. 19, from noon to 7PM, with a stellar line up of performers. Top Latin jazz vocalist Jessie Marquez opens at noon, followed by traditional jazz, swing and blues favorites by 1st Thursday Jazz quartet. The Jovino Satos Neto Quintet, led by three-time, Latin Grammy nominee Jovino Santos Neto, closes with "a creative blend of energetic grooves, deep harmonies, telepathic improvisation, lyrical melodies and great ensemble playing, inspired and informed by the colorful richness of Brazilian music." Complementing the music will be offerings of locally harvested Willapa Bay oysters, sausages, desserts and beverages. Tickets are available online and are priced at $20 for adults and $10 for children ages 6 through 18, for lawn seating (chairs and/or blankets suggested). A combo pass to Blues and Seafood events and Jazz and Oysters is $40.
Other music events include the Cape Disappointment State Park's acclaimed Waikiki Beach concert series (free with park admission) with performances on June 9 (free-admission day), June 23, July 14, July 28, August 11, and August 25 (at 244 Robert Gray Drive, Ilwaco), and the classically inspired Water Music Festival XXVIII, October 12 through 14, at venues throughout the Long Beach Peninsula.
Food lovers have their pick of additional Long Beach Peninsula events starting with the Northwest Garlic Festival, June 16 and 17, Ocean Park and including the Cranberrian Fair, Oct. 13 and 14, in Ilwaco, and the mouth-watering Wild Mushroom Celebration, Oct. 1 through Nov. 15, at participating Peninsula restaurants, inns and bed and breakfast establishments.
About the Long Beach Peninsula
With its mix of sensational restaurants, local seafood, ocean view lodging, colorful festivals and compelling events, unique museums and attractions, landmark lighthouses, fine art galleries, meandering trails, birding spots, state and national parks, and, above all, its long, wide, windswept beach, the Long Beach Peninsula continues to be one of the Northwest's most enjoyable and refreshing destinations. Located 2.5 hours from Portland and 3.5 from Seattle, the Long Beach Peninsula is a longtime favorite for those seeking easily accessible outdoors, great food and affordable creature comforts. For event and visitor information, please call the Long Beach Peninsula Visitors Bureau toll free at 1-800-451-2542 or access http://www.funbeach.com.