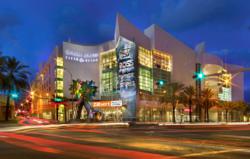 It's like a retail store for real estate. A clever innovation.
Miami Beach, FL (PRWEB) June 12, 2012
Zilbert International Realty, an innovative and successful Miami-based real estate agency, announced today that it will be opening its flagship "Zilbert Realty Store®" on Friday, June 15, 2012. The company will be holding an open house from 2:00pm to 8:00pm, open to the general public.
The Zilbert Realty Store® is a retail-like concept envisioned by Zilbert International Realty President and CEO, Mark Zilbert. The design was inspired by hugely-successful retail operations like the Apple Store® and the mock-retail-store of Progressive Insurance's television ads. The Zilbert Realty Store® enables Zilbert's real estate experts to engage with customers in a one-on-one setting, aided by a suite of Apple® technologies and an array of LED wall displays. The store will allow a customer to browse Miami-area condos and homes with the ease of shopping for traditional consumer products in a retail setting. Zilbert's staff, equipped with Apple® products, will assist customers and provide expert insight into all of the neighborhoods and communities in which Zilbert markets properties.
When the store opens later this week, Zilbert will be showcasing properties such as an $11.5M penthouse-type condominium at South Beach's Continuum condo, a $6.15M high-profile condo at South Beach's Apogee condo plus many more premium condos and homes in and around Miami Beach. Zilbert's inventory includes properties at all price ranges, with properties being offered for as little as $225,000 and ranging up to the $11.5M property mentioned above.
The Zilbert Realty Store® is open seven days a week, and offers free (two-hour) parking to its clients, plus complementary WiFi access. When customers visit the store, they will be able to meet with a Zilbert International Realty real estate expert without an appointment. The store is designed to make the process of buying or selling real estate as simple, streamlined and educational as possible.
The Zilbert Realty Store® is a registered trademark of Zilbert Realty Group, Inc. doing business as Zilbert International Realty. The firm is a licensed as a real estate broker in the State of Florida as Zilbert International Realty, with Mark Zilbert acting as Managing Broker. The Zilbert Realty Store® is a brand of Zilbert that represents its retail-like store concept, but is not otherwise represented as a brokerage entity.
The Apple Store® is a registered trademark of Apple, Inc.
ABOUT ZILBERT INTERNATIONAL REALTY
Zilbert International Realty is full-service, premium real estate brokerage that works with clients from around the world, helping them to buy and sell properties. It specializes in South Florida luxury estates, condos, homes and vacation properties from the greater Miami area up to the Palm Beaches. Zilbert set a Miami Beach condo sales record in December, 2011, selling a penthouse at Miami Beach's Setai Resort and Residences for $21.5M in December 2011. Through its alliance with the Who's Who of Luxury Real Estate and LuxuryRealEstate.com, Zilbert's global reach extends to over 70,000 real estate professionals in over 60 countries. Collectively, Zilbert and its network partners sell over $190B annually.
The company's website, http://www.Zilbert.com is a popular tool for its customers, with over 50,000 visitors each month, and over 10,000 properties that are updated continuously.
Zilbert's sales associates are an elite team of real estate professionals, recruited through a specialized, invitation-only selection process. The company is also a leader in the use of technology and social media to help it engage with its clients. Its core business philosophy is to build personalized, one-on-one relationships with buyers and sellers of real estate, and to partner with them through every stage of a real estate transaction. Its People-and-Technology approach to the real estate market enables it to provide an exceptionally-high level of customer service and customer satisfaction.
Zilbert International Realty was founded in 2003 by Montreal-born Mark Zilbert, a technology innovator who realized almost a decade ago that to prosper in real estate would require a strong adoption of technology. Having worked for such customer-focused technology companies such as Siebel Systems (now part of Oracle Corp.), Mr. Zilbert embraced technology and real estate, and developed tools to help buyers and sellers of real estate understand and engage in real estate transactions. Mr. Zilbert has appeared on numerous national news programs including ABC's 20/20, CNBC, CBS' Morning Show, ABC's Nightline. He has also been featured in the Wall Street Journal.
The firm offers a number of ways for its customers to interact with it. Its traditional business operation offers buyers and sellers of real estate access to sales professionals via its offices, by telephone, on the web, and in person. Its new Zilbert Realty Store is a retail-like shopping experience where buyers can interact with professional sales associates in a casual setting.