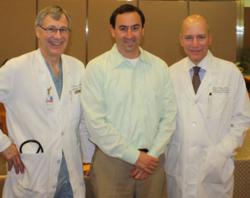 HeartValveSurgery.com educates and empowers patients and their caregivers," notes Dr. David Adams, the Chairman of Cardiothoracic Surgery at The Mount Sinai Medical Center
New York, New York (PRWEB) June 12, 2012
HeartValveSurgery.com, the largest online resource for patients with heart valve disease, announced today the launch of a Heart Valve Clinic Microsite featuring The Mount Sinai Medical Center and its Mitral Valve Repair Reference Center.
The microsite provides patients and their caregivers a simple interface with extensive multimedia capabilities -- virtual tours, patient success stories, surgeon videos -- to help users learn about The Mount Sinai Medical Center and its unique approach to treating heart valve disorders including aortic stenosis and mitral regurgitation.
"We are honored to launch this microsite with Dr. David Adams and his team at The Mount Sinai Medical Center," notes Adam Pick, founder of HeartValveSurgery.com, author of The Patient's Guide To Heart Valve Surgery and a double heart valve surgery patient. "My inbox is overflowing with positive feedback from patients who had successful mitral valve repairs and aortic valve replacements at Mount Sinai."
With its new 'Cardiac Clinics' section of the website, HeartValveSurgery.com now offers patients a trusted, end-to-end platform for learning about heart valve surgery. The platform includes a book, a blog, a surgeon locator, a clinic directory, educational videos, and a social network. During 2011, HeartValveSurgery.com received 1.2 million visits while expanding its online library to over 10,000 pages of free information.
"HeartValveSurgery.com educates and empowers patients and their caregivers," notes Dr. David Adams, the Chairman of Cardiothoracic Surgery at The Mount Sinai Medical Center, "The microsite is one more application that demonstrates the unique ways HeartValveSurgery.com supports patients experiencing serious valvular issues. I strongly recommend this website to my patients."
To see Mount Sinai's Heart Valve Clinic Microsite, please click http://www.HeartValveSurgery.com/MountSinai.
About HeartValveSurgery.com
Founded by Adam Pick in 2006, HeartValveSurgery.com has helped millions of patients and their caregivers better understand the potential challenges and opportunities of heart valve surgery from the patient perspective. To learn more, please click here.
About Mount Sinai Medical Center
The Mount Sinai Hospital, founded in 1852, is a 1,171-bed tertiary- and quaternary-care teaching facility and one of the nation's oldest, largest and most-respected voluntary hospitals. Of the top 20 hospitals in the United States, Mount Sinai is one of 12 integrated academic medical centers whose medical school ranks among the top 20 in NIH funding and US News and World Report and whose hospital is on the US News and World Report Honor Roll. Nearly 60,000 people were treated at Mount Sinai as inpatients last year, and approximately 560,000 outpatient visits took place.
To learn more about its unique Mitral Valve Repair Reference Center, please visit http://www.MitralValveRepair.org.
Contact HeartValveSurgery.com:
Adam Pick, Founder
adam(at)heartvalvesurgery(dot)com
Contact the Mitral Valve Repair Reference Center at Mount Sinai Medical Center
Gideon Sims, Senior Director, Information Technology & Web Strategy
Gideon(dot)Sims(at)MOUNTSINAI(dot)ORG