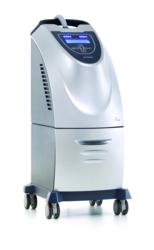 Jersey City, NJ (PRWEB) June 13, 2012
Viora, a leading medical aesthetics manufacturer, is excited to announce its participation in the FACE Conference and Exhibition, taking place June 15-17, 2012 in London, UK at the Royal College of Physicians. Together with AZtec Services, Viora will be displaying its full product range of leading medical aesthetic devices on booth no. DL-01. Products include:

Reaction™, Viora's leading FDA-cleared system for body contouring & skin tightening
Trios™, the advanced phototherapy device for long-term hair removal, treatment of vascular and pigmented lesions, and acne clearance
Infusion, the pain-free, needle-free electromesotherapy device
Pristine™, the award-winning diamond-tip microdermabrasion system
Conference attendees will also have the opportunity to learn more about ReFit, the exciting new protocol powered by Reaction™, used to treat the appearance of lax and sagging skin after extreme weight loss.
Presentation Workshop with Dr. Aamer Khan
In addition to booth activities, physicians can learn more about Reaction™'s underlying CORE™ technology by attending a workshop on Saturday, June 16th, 12:15 - 13:00, in the Sloan room when Dr. Aamer Khan, founder and medical director of the Harley Street Skin Clinic, will be presenting a lecture entitled "The Effect of Updated Radio-Frequency and Vacuum Technologies for Body Contouring and Skin Tightening Applications."
Pristine Raffle
Finally, Viora will be holding a raffle for FACE conference attendees to win a Pristine microdermabrasion device. Draw tickets will be available both on Booth DL-01 and at Dr. Khan's workshop and all conference attendees are eligible to participate. The draw will be held on Sunday, June 17 at noon.
About Viora
Viora is a market-leading manufacturer and technology provider of microdermabrasion, electro-mesotherapy, light-based and advanced radiofrequency systems for the global aesthetic and medical markets. All of the products are developed by a team of veteran engineers in the industry as well as medical experts including physicians, surgeons, dermatologists, medical researchers and independent clinical directors. For more information, visit http://www.vioramed.com