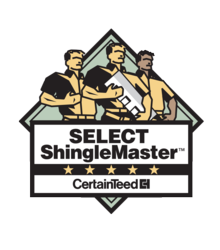 For David Deschaine Roofing to keep this ShingleMaster status they must maintain a customer satisfaction rating of 4 or higher on a 5 point scale.
South Portland , ME (PRWEB) June 13, 2012
David Deschaine Roofing is pleased to announce that it has partnered with CertainTeed, the largest manufacturer of building materials in North America. This new affiliation will allow Deschaine to offer its clients five-star coverage as part of the SELECT ShingleMaster program.
SELECT ShingleMaster is the highest roofing credential that CertainTeed offers, representing the most superior standard of quality and knowledge in the shingle roofing industry. David Deschaine Roofing earned the distinction of being a Select ShingleMaster by showing extensive knowledge of shingle installation and quality through rigorous testing. They also provided CertainTeed with proof of workers' compensation and liability insurance.
All SELECT ShingleMaster certified companies agree to abide by a code of ethics that covers compliance with applicable laws. They must also abide by the standards of workmanship, customer service and business administration. "For companies to keep this ShingleMaster status they must maintain a customer satisfaction rating of 4 or higher on a 5 point scale," said David Deschaine, owner of Deschaine Roofing.
One of the most significant benefits of using a 5 Star Coverage company like David Deschaine Roofing, is the 25 Year Workmanship Warranty, which is the strongest warranty in the industry. David Deschaine has also recently upgraded their warranty to a No Leak Guarantee and offers roof maintenance packages to help homeowners prevent damage to their roofs. These packages include both roof shoveling service and gutter ice removal treatments.
David Deschaine Roofing offers high quality CertainTeed roofing shingles in twenty-five, thirty and fifty year transferable warranties that provide coverage in the event of manufacturing defects. Partnering with CertainTeed enables Deschaine to provide the best quality, style and dependability to its customers.
About the company:
David Deschaine Roofing and Vinyl Siding Company has been offering professional and trusted home improvement services for over 25 years. With thousands of satisfied customers throughout Southern and Central Maine, David Deschaine has the most trusted and recognizable name in the industry. Servicing ME, Portland and Lewiston-Auburn areas. His company offers 5 Star Coverage to customers, and with 25 years experience there is a benefit of a Workmanship warranty. For more information visit their website at http://www.daviddeschaine.com.