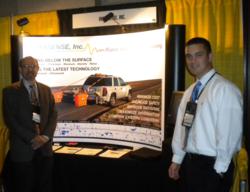 This marks the 6th time Infrasense has attended and contributed with technical papers, presentations and an exhibit.
(PRWEB) June 12, 2012
Infrasense is pleased to announce it will be participating in the NDE-NDT for Highways and Bridges: Structural Materials Technology (SMT) Conference, being held in New York from the 21-24 of August. The biennial conference aims to, "promote the exchange of information between national and international researchers, practitioners and infrastructure owners on the application of Nondestructive Evaluation (NDE) and Nondestructive Testing (NDT) technologies for the condition assessment of highway bridge and pavement infrastructure." This marks the 6th time Infrasense has attended and contributed with technical papers, presentations and an exhibit. This year Infrasense staff are primary authors on two conference papers, and a secondary author on a third conference paper.
In one paper, we present an independent evaluation of network level bridge deck condition assessments in Minnesota. MnDOT has carried out NDT scanning on 166 bridge decks throughout Districts 1, 3, 6, and Metro areas. Most of the work was carried out with ground penetrating radar (GPR), with limited additional use of infrared thermography (IR). The purpose of this work was to determine the degree of unsound concrete in each deck so that appropriate maintenance and rehabilitation measures could be taken to maximize the benefit to users for a given budget. As part of this process, MnDOT commissioned an independent study by EVS, Inc. to review cost, accuracy, and usefulness of these NDT methods with respect to their estimation of the actual extent of bridge deck repair. The repair work on 12 of the bridge decks was evaluated. This evaluation found the GPR and IR results to be within 3.5%-4% of actual repair quantities on average.
In a second paper, Infrasense introduces some unique applications of NDE technologies to characterize older structures for the purpose of load ratings.. Load rating is carried out on all bridge structures to ensure that they have the capacity to support the expected vehicular loads, or to appropriately restrict the vehicular loading on older and/or distressed structures by posting load limits. For many of these older structures, including culverts, concrete and stone arches, and precast girder bridges, design or as-built plans are no longer available to serve as a reference for the load rating analysis calculations. In these situations, NDE methods are often useful to fill in such missing data as element thickness, depth of overburden (culverts and arches), rebar depth and spacing, and estimated concrete strength. Over the past few years, MassDOT has used these techniques to support load ratings on a large number of structures. In this presentation, we will discuss the types of structures that have been investigated, the NDE methods used, the data that was obtained and the methods of analysis, and the resulting information generated for the load rating process.
Infrasense remains committed to advancing technology, and to new applications through active pursuit of an ongoing research and development program. The above papers will be published in SMT's 2012 publication, but pre-print copies are available now upon request.