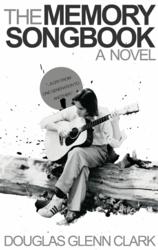 "Who doesn't feel young again when listening to a favorite Classic Rock song? Music can restore precious memories"
Los Angeles, CA (PRWEB) June 13, 2012
Douglas Glenn Clark's novel The Memory Songbook will be offered free throughout the day on June 15, the official opening of the feature film Rock of Ages.
Clark says the free offer of his Kindle Select title on the film's opening day is significant because both stories celebrate great songs and the important role music plays in our lives. And both honor love.
"Who doesn't feel young again when listening to a favorite Classic Rock song? Music can restore precious memories. Research shows that there is a profound connection between music and memory. But the heart already knows that hearing one good song is like re-living the best moments in life," he says.
Film goers and readers are invited to download The Memory Songbook from the Amazon site at any time throughout the day of June 15. The offer ends at midnight, just after the last showing of Rock of Ages.
Story and music lovers don't need a Kindle device to read The Memory Songbook. Download Amazon's free e-reading apps for PCs, Macs, iPods and smart phones. Also, you can purchase the Kindle ebook from Amazon, and then run it through a free file converter like Calibre to convert it to an epub file. This will allow The Memory Songbook to be read on a Nook or other non-Kindle e-reader.
The Memory Songbook shifts between the winter and summer of singer-songwriter Frank Gosnell's life. At the age of seventeen, Frank doesn't think he has a past; at mid-life he is not so sure he has a future. Wrong on both counts. The novel starts as a romp through first love and the power of music only to blossom into a story about the battle of holding onto youth as we age. This pop-culture fiction is suitable for adult and Young Adult readers. It blends Classic Rock and poignant family revelations with Woodstock, guitar god worship and war.
Clark uses time travel and magic realism to explore pivotal events in the lives of his central characters.
"In a way, listening to music is time travel. It takes us back to the days of Pete Townshend and The Who or World War II swing music or the folk and blues tunes of Lead Belly," he says. "My story appeals to baby boomers who still listen to Classic Rock while caring for an elderly parent, and young adult readers who can't yet imagine what it feels like to be fifty years old."
Clark is the founder of Lake Story Media and the author of other fiction, such as The Lake That Stole Children and The Cancer Assassin, both of which employ rich language and magical happenings to convey life's amazing possibilities — out of sight, perhaps, but not out of reach.
Clark has received writing awards from the Connecticut, Massachusetts and Michigan arts councils. His journalism has been published in daily newspapers, such as the Los Angeles Daily News and various print and online publications.
About Douglas Glenn Clark:
For more information about The Memory Songbook visit http://douglasglennclark.com/blog/ or http://www.amazon.com/ . E-mail the author at dgcwrite(at)gmail(dot)com
Contact:
Douglas Glenn Clark
Lake Story Media
310-289-5474