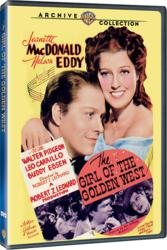 What makes the release of these two classic musical gems especially significant, is that these two titles in particular, mark the team's reunion after playing roles with other co-stars
Philadelphia, PA (PRWEB) June 18, 2012
In Hollywood's Golden Age, audiences clamored for more of the singing sweethearts appearances together and MGM reacted with spectacular vehicles for their stars. And more importantly, these two films are the only two of their movies together not previously available on DVD, until now.
Set in colorful 1789 New Orleans,New Moon (1940) stars Jeanette MacDonald as a somewhat snooty plantation owner who falls for , a rebellious French aristocrat, posing as a bond servant. They both meet on a ship bound for the New World from Paris, but when Jeanette learns that Nelson is not really the naval officer he pretends to be, they part ways only to meet again after a sea battle and a shipwreck. Songs in this exciting, tuneful film -- the sixth film with the team -- were adapted from a Sigmund Romberg operetta, including "One Kiss", "Stout-Hearted Men", "Lover Come Back To Me", and "Softly As In A Morning Sunrise."
In The Girl of the Golden West (1938), Miss MacDonald sings in and runs a rowdy saloon in a one-woman mining town. Enter Eddy, a Mexican outlaw impersonating a cavalry officer, who sweeps Jeanette off her feet. When local lawman Walter Pidgeon nabs the outlaw, Jeanette pleads to set him free. For this fourth outing for the MacDonald/Eddy team, Sigmund Romberg and Gus Kahn penned the music for this sagebrush operetta which includes the songs "Shadows on the Moon", "Who Are We To Say", "Soldiers of Fortune" as well as Jeanette's rendition of "Ave Maria." Fan's of classic TV shows will recognize Buddy Ebsen in the top-notch supporting cast. (Buddy was Barnaby Jones from 1973-1980).
Both New Moon and The Girl of the Golden West are available in July for $19.99 each and are being released by the Warner Archive Collection in conjunction with Movies Unlimited.
Movies Unlimited is one of the world's oldest and most reliable video retailers of DVD and Blu-ray titles, specializing in hard-to-find movie classics. New Moon and The Girl of the Golden West can be ordered through their website at http://www.moviesunlimited.com or by calling 1-800-4-MOVIES. The Philadelphia-based company also publishes the annual encyclopedic 800-page Movies Unlimited DVD Catalog.
For further information, please contact: Irv Slifkin (215-637-4444, ext.6113) irv(at)moviesunlimited(dot)com