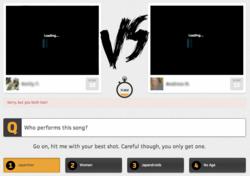 It's a fun, challenging game that allows you to discover new music at the same time.
Los Angeles, CA (PRWEB) June 13, 2012
Vuurr, Arizona's premiere digital marketing firm, receives honorable mention at Hollywood Hack Day for their 48-hour creation, Tune Clash. Vuurr's Tune Clash also won for best use of TokBox API.
Tune Clash combines the enticing challenge of music trivia with a Chatroulette-type platform. Users log in through Facebook, where they're paired with another user to compete. Users get up to 15 seconds to correctly guess the name of a song played at random. The first person to guess correctly not only receives more points and beats his or her competitor, but also climbs higher on the global leaderboard.
"It's a fun, challenging game that allows you to discover new music at the same time," Andrew Ryno, lead developer at Vuurr, said.
The concept originated during the six-hour car ride from Chandler, AZ. After a couple hours playing with AirTime, a new video chat developed by the founders of Napster, Vuurr decided to take it a step further by adding a music component.
Vuurr utilized TokBox, Pusher, Rdio, Echonest, Rovi and the Facebook APIs. TokBox provides Tune Clash with its one-to-one video chat capabilities, while Pusher synchronizes the two competing users. Rdio, Echonest and Rovi supply Tune Clash with the actual music files, related music and artists, and other supplementary information.
"We're excited to push the envelope between high interactivity web applications and social gaming," Josh Ziering, partner at Vuurr, said.
Tune Clash won fourth place out of 23 teams. This year's second annual Hollywood Hack Day, June 9 and 10, brought over 100 participating coders from the West Coast to Los Angeles to develop the newest applications for the music industry.