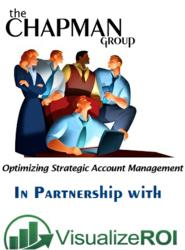 The world has changed, and it's now more important than ever that vendors demonstrate their value throughout the sales cycle.
San Francisco, CA (PRWEB) June 18, 2012
The Chapman Group (TCG), a strategic account management consulting firm headquartered in Columbia, Maryland, is proud to announce a new partnership with VisualizeROI, a San Francisco-based solution provider of next-generation sales applications that effectively streamline communications between a sales force and their customers.
The partnership combines The Chapman Group's expertise in ROI modeling and development with VisualizeROI's innovative Software-as-a-Service (SaaS) ROI application to create the most accurate, collaborative, and convincing ROI business cases for business development and enterprise account management.
Dennis Chapman, founder of the Chapman Group, stated, "We have been helping clients for over 20 years to define and quantify their economic value propositions more effectively. The world has changed, and it's now more important than ever that vendors demonstrate their value throughout the sales cycle. We are delighted to partner with VisualizeROI, whose application simplifies the lives of sellers, marketing professionals, and sales management, by making the demonstration of value intuitive and engaging."
Mike Genstil, Founder and CEO of VisualizeROI, adds, "For over 20 years, The Chapman Group has been instructing and equipping sales and account management leaders in Chemical, Technology, Healthcare, Manufacturing, Financial Services, Energy and other key sectors with metrics, tools, and processes that help them optimize sales efficiency. We are excited to work with the TCG team to enable customers to take value selling to the next level."
Business development and account management benefits include:

Ensure consistent economic value based messaging across the organization
Maximize utilization of CRM, VOC, and CXP
Track and verify value-based activities
Institutionalize value knowledge
Control distribution and access to versions of ROI and TCO models
Ability to publish models pre-populated with appropriate data subject to client's business
Interactive and collaborative client sharing of ROI models with version tracking
On June 26th, 2012, Chapman and Genstil will introduce the partnership leading an interactive discussion and live demo on the VisualizeROI solution. There, attendees will learn hands on how to:

Fully optimize account management strategy
Transform spreadsheet-based ROI models into dynamic applications
Show their customers the incremental profit they would gain by using their solutions.
For information on attending this exclusive event click here or contact The Chapman Group at info(at)chapmanhq(dot)com.
About The Chapman Group | http://www.ChapmanHQ.com
The Chapman Group is a leading Strategic Account Management (SAM) and sales effectiveness consulting firm. For over 20 years The Chapman Group has been assisting the world's most successful and respected organizations improve strategic account management and sales practices, resulting in billions of dollars of delivered economic ROI (Return on Investment).
About VisualizeROI | http://www.VisualizeROI.com
Based in San Francisco, CA, VisualizeROI has been creating innovative, industry-leading applications to assist sales and marketing professionals since 2007. VisualizeROI solutions are utilized throughout the sales cycle, from a prospect's initial website visit, through inside sales engagement, and into the customer success and renewal cycle. With out-of-the-box integration with marketing automation and CRM systems, VisualizeROI enables one-click away value selling in an intuitive way. VisualizeROI customers are thought leaders in the business-to-business selling community. For more information, please visit http://www.VisualizeROI.com