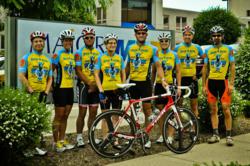 Identifying sugary juice-filled "sippy cups" as nutritional "weapons of mass destruction" among very young children, Dr. Paula Gustafson and the Docs and Jocks team want their 3,000-mile cross-country ride to make a difference.
(PRWEB) June 13, 2012
Unchecked obesity is a killer, and three physicians and five educator/athletes have created the Docs and Jocks bike team to raise awareness about the dangers of obesity, particularly in children. Identifying sugary juice-filled "sippy cups" as nutritional "weapons of mass destruction" among very young children, two pediatricians and a surgeon will race 3,000 miles across America with the team, beginning June 16.
Calling themselves the "Docs and Jocks Team," the eight-person group from from the Major Health Partners network in Shelbyville, Indiana will cover a 12-state route (including mountains as high as 10,000 feet) from Oceanside, California to Annapolis, Maryland. The primary focus of the grueling cross-country trek? The dangerous epidemic of childhood obesity and what can be done to both reverse and prevent it.
The Docs are chronicling their trek through social media, and all are welcome to follow them across on the United States on Facebook and Twitter, and the Docs and Jocks blog.
"Recent news coverage shows that healthcare-related obesity costs now exceed that of smoking, and the dangerous consequences of unchecked obesity in children are truly frightening," said Paula Gustafson, a board-certified pediatrician with Major Pediatrics, who organized the team. "Unless people want to see their children develop adult-like symptoms of cardiac problems, the early onset of diabetes, non-alcoholic liver damage and other life-long serious problems, we must do something about childhood obesity now."
The "Docs and Jocks Team" team represents an outgrowth of Dr. Gustafson's work in establishing the Major Easy 3 Childhood Obesity Prevention initiative (http://www.majoreasy3.org), which emphasizes three simple steps to prevent obesity from occurring in children under age four. The initiative, which has attracted support from organizations like the Academy of American Pediatrics (AAP), the Indiana Rural Health Association, and Honda of Indiana, works to put into place positive behaviors and attitudes toward food at a very early age.
Dr. Gustafson's education efforts through the Major Easy 3 program include showing parents and caregivers how much sugar is in commercially produced drinks and soft drinks, which earned her front-page coverage in major media. "Sugar content and the use of high-fructose corn syrup have skyrocketed in sweetened beverages, which leads to people literally drinking excessive calories and then to the onset of a clinically overweight condition," said Dr. Gustafson. "If a person simply cuts out the soft drink that they drink every day for lunch, that can lead to the loss of 10 pounds in less than a year."
The three steps – which are 1) drinking milk with meals, 2) serving only water for refreshment (and avoiding sweetened beverages), and 3) taking all meals and snacks at the family table (and avoiding eating in front of a television or computer screen) – can be used by parents and caregivers to prevent obesity in children under the age of four. In older children the steps can easily be combined with moderate exercise and used effectively to develop positive and beneficial lifelong habits.
The 2012 Race Across America (RAAM) team relay race will begin in Oceanside, California (on the Pacific Ocean) on Saturday, June 16 and continue until June 25 through Arizona, Utah, Colorado, Kansas, Missouri, Illinois, Indiana, Ohio, West Virginia, Pennsylvania and finally Annapolis, Maryland (on the Atlantic Ocean).
The team participants plan to demonstrate the Major Easy 3 principles "in action" during the event. "We want in effect to put our money where our mouths are in demonstrating how these three simple steps can work at any age," explained Dr. Gustafson. Additional plans are being prepared for the team to promote the Major Easy 3 principles of preventing childhood obesity as they race across the 12-state route.
The "Docs and Jocks Team" is made up of Carlos Vieira, MD (Shelbyville), a 40-year-old board-certified surgeon with Major Health Partners who treats chronic illnesses like obesity; Andrew Cagle, MD (Indianapolis), a 45-yeard-old board-certified pediatrician at Major Pediatrics who focuses on pediatric endocrinology; Elizabeth Martin (Columbus), a 21-year-old college student who races bicycles competitively; Ben Weaver (Columbus), a 43-year-old personal trainer with a passion for helping parents in preventing childhood obesity; Leslie Weaver (Columbus), a 37-year-old teacher who is also a triathlete; Scott Wilson (Columbus), a 40-year-old insurance professional who is a youth basketball coach with a commitment to reverse the childhood obesity epidemic; Matthew Battin, 40 (Columbus), owner of The Bicycle Station and a competitive biker; and Dr. Gustafson, a board-certified pediatrician who heads up Major Pediatrics in Shelbyville and developed the Major Easy 3 program.
The RAAM format race advances its third decade of racing with the 2012 challenge, featuring racers in both solo and team categories. In the case of the Docs and Jocks Team, the emphasis will be on heightening awareness of the dangerous consequences of childhood obesity and the positive benefits of adopting and sustaining a healthy lifestyle.
The "Docs and Jocks Team" are being sponsored by Major Health Partners (MHP) and Major Hospital in Shelbyville, Indiana (Major Hospital is named after William S. Major, a local Shelbyville business professional who donated property for establishing a regional hospital some eighty years ago). MHP also sponsors the Major Easy 3 initiative, providing in-kind and financial support for education and promotional activities.
The Docs and Jocks Team is also working to raise funds for the distribution of "ME3 Obesity Prevention Kits," which the group hopes to distribute to all pediatricians and family physicians throughout Indiana and eventually to all. Posters and other educational materials are available in both English and Spanish, and much of the information is downloadable free of charge from http://www.majoreasy3.org/consequences.html.
Those interested in contributing to the RAAM Docs and Jocks Team or to other aspects of the childhood obesity prevention initiative can do so easily online (click on the "donate" button on the home page at http://www.majoreasy3.org) or by contributing by check to Major Hospital (see Web site for mailing address). All contributions are fully tax-deductible to the extent permitted by law.
Depending on weather and the speed of participants, the 3,000 mile race will conclude in Annapolis between June 21-25, according to RAAM officials.
About Major Hospital and Major Health Partners: Major Hospital, the sponsor and clinical home of the Major Easy 3 Childhood Obesity Prevention initiative, is the primary healthcare provider for Shelby County (Indiana) and serves patients and families throughout southeast Indiana through the hospital and its vertical practice groups in Major Health Partners. Founded in 1924 (and named after William S. Major, a local business professional who donated assets that led to the establishment of the hospital), Major Hospital has served as regional leader in successfully delivering a wide spectrum of healthcare services, including oncology and orthopedics. Ranked three years out of four as one of America's Top 100 Hospitals by Thomson Reuters, and as documented by the national independent Press Ganey ranking service, Major Hospital enjoys a top ranking for inpatient satisfaction in central Indiana. It has also secured a national reputation as one the nation's leading hospitals in health informatics. For more information about the Major Easy 3 Childhood Obesity Prevention initiative, please visit http://www.majoreasy3.org. For more information about the Race Across America (RAAM) organization and details about the 2012 teams, please visit http://www.raceacrossamerica.org.