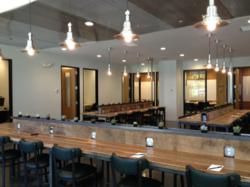 Third Workplace is a cost-effective solution for us in locations where a physical office is cost-prohibitive but employees need a space that makes them feel at home.
Walnut Creek, California (PRWEB) June 25, 2012
Third Workplace, a flexible workspace environment with all of the advantages of a professional office in convenient community locations, announces its grand opening in the East San Francisco Bay Area. Beginning today, mobile workers will have access to open workspaces, private offices, and conference rooms with the latest in communications technology. Access is available by the hour or by monthly subscription options that offer reduced rates.
Third Workplace revolutionizes the evolving workplace by offering a way to stay productive working remotely—allowing workers to get out of the coffee house and into a professional working environment with all the amenities : lightning-fast WiFi, modern furniture, video conferencing, printing, high-speed copier, faxing, and coffee/tea/filtered water. Located in ground level retail space in high-traffic areas, rather than business parks or high-rise buildings, Third Workplace allows organizations of all sizes—from the sole-proprietor or freelancer, to enterprise corporations with remote team members—to gain all the benefits of a professional office space without the commitment: no credit checks, and no leases.
"We have the responsibility of finding spaces where employees at Riverbed have the technology resources they need to be productive, collaborative and can meet with clients," said Steve Hirai, Senior Director of Corporate Services, Riverbed Technology. "Third Workplace is a cost-effective solution for us in locations where a physical office is cost-prohibitive but employees need a space that makes them feel at home and offer the same advantages they would have if they were working in a Riverbed office."
To ensure access for any budget, Third Workplace Memberships are available on a pay-as-you-go basis (as low as $6/hr) or with a monthly subscription plan with even lower costs, allowing entrepreneurs the flexibility of hourly access, or enterprise workers the predictability of a monthly charge.
"Undoubtedly, there is a growing trend toward the consumerization of the workplace. With the advent of social networking, the acceleration of wireless technologies, and the capability to work virtually anywhere, office workers are becoming more enabled and more savvy consumers, said Chris Mach, Global Workplace Strategist from AT&T. "They are demanding a workplace platform that serves their social needs, each individual's work-life blend and creative aspirations. Third Workplace is the manifestation of all of this. I look forward to watching this evolve."
As a Grand Opening promotion, Third Workplace is allowing free access to the public to experience the product. Interested parties can visit http://facebook.com/thirdworkplace for an exclusive offer code that provides three free hours of access to Third Workplace's Open Workplace product.
The inaugural East Bay location is located in the Contra Costa Centre at 7000 Sunne Lane, Suite 112 in Walnut Creek (corner of Treat and Jones, next to Starbucks) and is open 5:30am – 11:30pm M-F, 10am-8pm Saturday, and 11am – 9pm Sunday. For more information, please visit thirdworkplace.com.
About Third Workplace
Third Workplace is dedicated to providing local communities a completely flexible way to work. We strive to contribute directly to less traffic congestion, reduced stress, and a green work style. Unlike traditional commercial office space that demands credit checks, long leases and zero flexibility, Third Workplace provides the easiest, most flexible way to work in a professional environment without sacrificing amenities, straining your budget, or giving the perception that you are a coffee shop-based business. Not your home. Not your office. Your Third Workplace.TM For more information, please visit http://thirdworkplace.com.
Media Contact:
James Bates james(dot)bates(at)thirdworkplace(dot)com
###