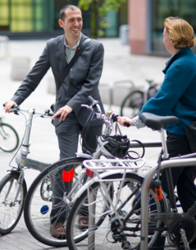 We all know the benefits of cycling but this site makes it more fun
(PRWEB UK) 15 June 2012
The free web tool encourages people to ride more often by logging information about their cycling journeys and setting personal goals. Each recorded cycle journey calculates the money saved by cycling against the equivalent cost by car, as well as the bike miles clocked up and the calories burned. CyclingWorks! offers a fun way for organisations to pit themselves against each other and compete to see who can clock up the most cycling miles and save the most carbon
National Bike Week is the UK's biggest mass participation cycling event, with thousands of Merseyside cyclists taking part in activities ranging from Ride to Work days and the Wirral Bikeathon to Midnight Express, a twelve hour cyclist relay fundraising event.
Jim Barclay, Merseytravel's interim chief executive said, " We all know the benefits of cycling but this site makes it more fun by allowing people to clock up how many miles they've cycled, their carbon saving and the calories they've used. Lots of people and organisations have already signed up to see who can log the most miles and I hope many take up the challenge and join in the fun!"
Cycling Works! will feature regular FREE OFFERS such as events, prizes, cycle maps, adult cycle training and maintenance sessions.