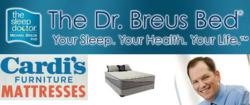 The Dr. Breus Bed™ has been specially designed to give you a perfect night of sleep, every time.
Swansea, MA (PRWEB) June 14, 2012
Cardi's, the legendary Rhode Island and Massachusetts furniture and mattress provider, is proud to announce the addition of the unique and innovative Dr. Breus Bed to its line of top-quality furniture and bedding.
Developed by sleep specialist Dr. Michael Breus, The Dr. Breus Bed™ has been specially designed to give you a perfect night of sleep, every time. The Dr. Breus Bed™ utilizes an exclusive proprietary layering system to achieve unbeatable comfort that leads to an ideal night of sleep. Up to 13 separate layers of pure Talalay latex and luxurious polyfoams are installed by hand into the beds by expert artisans during the sophisticated manufacturing process.
These exceptional beds are now available at all Cardi's Mattresses and Cardi's Furniture locations.
The unique system designed by Dr. Breus relies on his ingenious "Sleep Assessment" feature, which is based on his four tenets of better sleep: thermo-neutrality, a feeling of zero gravity that comes from superior pressure relief, complete relaxation and tranquil sleep that results from reduced movement.
In addition to The Dr. Breus Bed™, prospective buyers can experiment with the SleepMatch™ sleep assessment system to help you find the perfect bed for your body type. Thousands of volunteers of various body types assisted in the creation of this special SleepMatch™ system. Entering your SleepMatch™ information on the Cardi's website will help Dr. Breus guide you to the right mattress for you: http://www.cardis.com/main/bodymatch.php
Dr. Breus is a sleep expert, best-selling author, clinical psychologist, Diplomat of the American Board of Sleep Medicine and Fellow of the American Academy of Sleep Medicine. He has appeared on the Oprah Winfrey Show, the Dr. Oz Show, the Today Show and many other national TV programs and publications. He is a widely recognized leader in the field of sleep study.
The premier furniture and mattress store in MA and RI, Cardi's traces the roots of its operation back to the year 1901 in the town of Itri, Italy, with the first Cardi's in America opening as a general store in 1928. After undergoing several stages of expansion through the years, Cardi's now has multiple furniture, mattress, clearance and design locations throughout RI and MA, including Cape Cod. With an emphasis on flawless customer service, the Cardi's family is proud to guarantee the best furniture and mattress shopping experience in the business.
About Cardi's Furniture:
As New England's leading home-grown furniture provider, Cardi's has been devoted to providing premium home furnishing for families across Southern New England for over 80 years. Cardi brothers Ron, Pete and Nick developed their famous "NiRoPe" philosophy around guaranteeing rock-bottom prices, sky-high quality and limitless customer service.