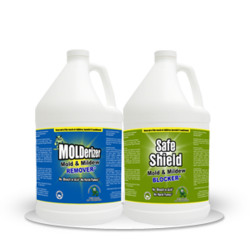 ...that excellent mold cleaning regimen Molderizer.com can provide.
St Louis, MO (PRWEB) June 14, 2012
Mold remediation products are crucial elements of the mold removal process. Wrong choices of them can lead to ineffectiveness and additional expenses. Aiming to help contractors and homeowners avoid unnecessary spending, Molderizer.com formulated a non-toxic and effective solution that could minimize work and speed up the process.
Know More About Molderizer's Non-Toxic Solutions
Mold grows when there is moisture. And because moisture is almost always present at houses, mold growth is one of the most common problems of homeowners. Although there are instances that the homeowner himself can clean the spores, oftentimes, calling a mold remediator is the much better course of action. It could be because of the expanse of the infestation, the type of mold growing or the time constraint.
Whatever is the reason for calling a mold remediation contractor, home and property owners know that the one they must hire is with an excellent mold cleaning regimen. And that excellent mold cleaning regimen Molderizer.com can provide. More than that, it can do so with a big price cut.
As a green cleaning online company, Molderizer.com uses natural ingredients in producing its mold removal products. However, despite the absence of harsh chemicals, it assures that its solutions are still effective. In fact, it can even boost a contractor's profit, the company said. And to prove that, it's giving out samples of the solutions.
Get Your Complimentary Sample Today
As it stated, its mold removal formula, also called as Molderizer, is the only product in the market that actually breaks the DNA of the spores. Because of that, the spores are kept from coming back. And basically, that prevents the repeat of the process which in return lessens the mold removal cost.
In addition, as an effective spray solution, Molderizer makes the removal easy and fast to complete. That reduces labor cost as not many employees are needed to complete the work.
Apart from Molderizer, the company also offers a mold prevention product labeled as Safe Shield. It uses a patent-pending encapsulation barrier on the surface to block future mold amplification. Non-toxic as it is, it can be used in almost any item or surface. That saves the contractor from buying different mold products for specific materials.
Both products, while being effective, offer a safe mold remediation process. Exposure to them can cause no allergies or any breathing difficulties. And that gives any contractor an edge.
And more, the company often offers the products in great discounts. So aside from the savings imbued in every bottle of Molderizer and Safe Shield, special deals and packages give separate price cuts. For this week, contractors can get a 30% markdown in every pair of the non-toxic mold removal products. Consumers just have to enter the coupon code "MOLDY" at MyCleaningProducts.com