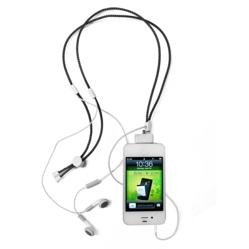 The iHangy™ Music Necklace™, the latest innovation from mobile phone accessory manufacturer OnTrion, lets Zooey – and other iPhone® users – really get their groove on by affording them convenient hands-free access to their smartphone
Dallas, TX (PRWEB) June 14, 2012
Thanks in large part to a new television campaign ad featuring Zooey Deschanel, the buzz score for the iPhone® recently went from 16 to 51 among 18- to 34-year-olds in just two weeks. The Apple® device's Siri intelligent assistant is fueling this frenzy, but holding their iPhone® up to their mouth to talk to Siri may soon put a damper on the excitement. Because it allows iPhone® users like Zooey to enjoy their Apple technology hands-free, the new iHangy Music Necklace is designed to keep the Siri love affair going. And for a limited time, OnTrion is offering the iHangy necklace at a 15 percent discount.
A popular TV ad for the Apple iPhone® 4S shows Hollywood's latest 'it' girl, Zooey Deschanel, passing a rainy day by carrying on a conversation with the smartphone's intelligent talking assistant, Siri. The only problem is, when it comes time to let loose and dance at the end, Zooey's still clutching her iPhone® in her hand.
The iHangy™ Music Necklace™, the latest innovation from mobile phone accessory manufacturer OnTrion, lets Zooey – and other iPhone® users – really get their groove on by affording them convenient hands-free access to their smartphone. The next time Ms. Deschanel gets the rainy day blues, she can simply and securely drape the iHangy™ Music Necklace™ around her neck and continue talking to Siri while she really boogies down.
For more information on how to get more enjoyment out of iPhone's personal assistant Siri, visit http://www.ihangy.com for product information. The iHangy™ Music Necklace™ can be purchased there at the discounted rate via code "15ihangy."
CONTACT INFORMATION:
Palki Kochar
13650, TI Blvd., Suite #309
Dallas, TX 75243
(877)676-0877
http://www.ontrion.com