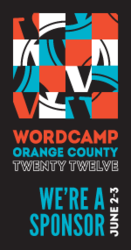 There is tremendous demand among the small business community for the WordPress content management system since it allows businesses to easily update their firm's website
San Diego, CA (PRWEB) June 14, 2012
On June 2, approximately 200 WordPress developers, designers and bloggers gathered at Vanguard University in Costa Mesa, CA for WordCamp Orange County 2012. WordCamps are casual, locally organized conferences covering everything related to WordPress, the open source personal publishing software that powers over 25 million sites on the web. The WordPress content management system allows small businesses to manage their own websites without web development experience. This event was the third WordCamp conference held for the Orange County community. Bop Design, a San Diego web design agency, was one of the sponsors for this year's WordCamp OC. Bop Design uses WordPress for most of its small business websites. "There is tremendous demand among the small business community for the WordPress content management system since it allows businesses to easily update their firm's website with new blog entries, content, photos, news, etc. It allows a website to truly be a 'living, breathing' resource center," comments Bop Design Business Principal, Jeremy Durant.
The first day of the event had 16 scheduled sessions where volunteers spoke about various WordPress topics. Some sessions were more technically oriented and aimed at more experienced web developers, while others were great for those just getting started in WordPress development. Topics ranged from introductory WordPress topics to contributing to the core WordPress development team to Internet/WordPress security to custom theme development.
"There was a multitude of WordPress topics being discussed," says Jordan Paraso, Web Developer at Bop Design. "The session titled Enterprise Class WordPress by Jake Goldman, the president and chief engineer at 10up, really got my attention. He started the session by asking everyone if they had ever utilized WordPress to create a $50,000 enterprise website. He then asked if anyone had designed a $100,000 WordPress website. Most people think that WordPress is only for small websites but many Fortune 500 companies are now using WordPress for their websites. The session really opened my eyes to what WordPress is capable of."
"Getting the Most Out of Your Google Analytics by Kelley Koehler was a great talk," comments Emily VonSydow, Bop Design's Project Manager. "Kelley went over the basics of Analytics for those who weren't familiar and showed how to interpret the data. She went through a couple of case studies and identified actionable data. It was really valuable to see how others leverage Google Analytics and make marketing decisions based on the data. Google Analytics helps small businesses determine what is working and what is not on a firm's website"
Some of the sessions also had valuable information for not only web developers but also for other professionals in related fields. IT consultants enjoyed the session titled Optimizing WordPress for Speed and Scale by Ben Metcalfe of WP Engine. He discussed ways to improve a WordPress website on the server side. Tony Perez of Sucuri Security reviewed important trends and challenges that Internet Security experts must face on a daily basis with his session titled End-User Awareness. Even sales and marketing professionals would have benefitted from the conference. Learning more about the WordPress community and the types of websites that can be created with WordPress are important in targeting users and finding new clients.
The second day of the conference was Sunday Developer Day, a smaller gathering of the same attendees. There were no scheduled sessions or speakers for the shorter day. "It was more of a WordPress meet up group," Jordan notes. Newer WordPress users were able to get help from experienced developers, while everyone was able to further develop relationships that were established the day before.
This was Bop Design's first WordCamp sponsorship. "Since it was my first WordCamp, I wasn't sure what to expect," Jordan says. "What makes WordCamp really spectacular is the communal environment. Everyone from the experts to the beginners, were extremely friendly and helpful. I'm definitely looking forward to getting more involved in the WordPress community."
About Bop Design, San Diego and New Jersey Web Design
Bop Design is a boutique marketing communications firm headquartered in San Diego with offices also in New Jersey. The marketing agency expresses a business' values through web design, branding, advertising and print design. They also help attract a firm's ideal customer through search engine optimization and search engine marketing. Bop Design's focus is on small businesses that want an external team of marketing specialists to help give their brand an edge in the marketplace.