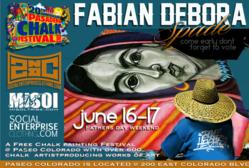 Pasadena, CA (PRWEB) June 14, 2012
The Pasadena Chalk Festival celebrates its 20th Anniversary this weekend and Social Enterprise Clothing's artist, Fabian Debora competes again. This is his second year participating in the event. The event supports The Light Bringer Project, a Pasadena-based nonprofit organization whose mission is "to build community through the power of the arts." The festival continues the legacy of street painting art form and hundreds of artists from all across Southern California spend the two days creating spectacular chalk murals on concrete areas in every style imaginable.
The artists compete in several awards categories including Best Technique, Most Humorous, Best Animation, Best Use of Color, and more. Come out and support Fabian as he represents for Homeboy Industries and Second Chance. Second Chance's street team will be there and the first 100 guests will get a free Join the Movement t-shirt. Visitors can help select "Paseo Colorado People's Choice" winner! The event is family friendly, and in addition to watching the artists at work, guests are treated to live music and entertainment throughout the weekend. There is an area just for the kids, too. KIDS CHALKLAND allows younger visitors a chance to create their own chalk artwork.
Paseo Colorado is located at 280 E. Colorado Blvd., between Marengo and Los Robles Avenues, in the heart of Pasadena's historic downtown Civic Center. The festival will be open Saturday, June 16, 2012 and Sunday, June 17, 2012.