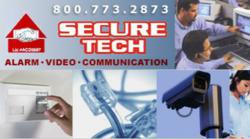 If you are in need of an experienced and professional security technician for your home and business then please do give us a call
Santa Clarita, CA (PRWEB) June 14, 2012
Residents and business owners in need of a service for home security in Santa Clarita CA are likely to be interested in the free estimate offered by one particular local company. Secure Tech specialises in security systems, telephones, intercoms, low voltage installations, and surveillance in Santa Clarita CA.
The company is inviting residents and business owners to call-in and obtain a free estimate.
"If you are in need of an experienced and professional security technician for your home and business then please do give us a call," said a company spokesperson. "We will be more than happy to help and can provide a free estimate for your project."
Secure Tech is especially well known for their security systems service. The company has years of experience in this area and are able to develop and implement a customized security system for the specific needs of any family or business. The combination of magnetic contacts to detect the opening of windows and doors, vibration sensors to detect forced entry and infrared detection for internal movement provides clients with the complete security system.
"If you are in need of a security system in Santa Clarita CA then you have come to the right place," said a company spokesperson. "We understand that the safety of your family is the priority for any homeowner and we specialise in providing the most effective security solutions specific to your home."
Additional commercial security system services are available for commercial clients, including audio and security code identification, card key verification, and off site monitoring.
For more information on the full range of services available from Secure Tech, visit their website at http://www.securetec.com
About Secure Tech:
Secure Tech provides a full range of services for intercom, telephone, security and surveillance in Santa Clarita CA. The company are experts at entry gate intercoms, custom wiring services, and the installation and maintenance of low voltage equipment. Secure Tech take pride in their high standards of work and dedication to customer service that sees many customers become lifetime clients.