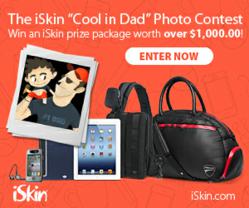 a picture of their dad that capture's his "cool" at the "Cool in Dad" iSkin Facebook contest page
New York, New York (PRWEB) June 14, 2012
The "Cool in Dad" photo contest runs exclusively on the iSkin Facebook® fan page (http://www.facebook.com/MyiSkin) and is open to residents of the contiguous USA and all provinces of Canada excluding Quebec. Participants must be 13yrs or older and have an active FaceBook account.
To enter, participants must post a picture of their dad that capture's his "cool" at the "Cool in Dad" iSkin Facebook contest page. It can be a skill, a talent, a deed, his personal style or that thing he does that sets him apart. Pictures must be submitted to the contest page along with a brief caption before July7th. All entries will be reviewed before appearing live on the contest page.
The "Cool in Dad" will have two phases of judging. The first will be a public voting for the picture that best captures the cool in dad. Friends, family and other visitors to the contest page are allowed to vote. Each visitor gets to vote once per contestant, per day. The first phase will start after the posting period on July 8th 2012 until July 16.
The second and final stage of the winner selection process will be conducted by iSkin and will be a random selection of the top ten highest voted contestants. The final stage of the voting process will take place on July 18th.
The iSkin Facebook "Cool in Dad" prize pack includes The Cool in Dad Winner Plaque, which will be personally engraved. Also, the Ducati Collection Jimmy Sports/Weekender Travel Bag, iSkin Fuze SE, iSkin Agent 6 Sling Carrier and iSkin earTones earbuds. Rounding out this great prize pack is an Apple iPad (the new iPad 3rd Generation) and an iTunes Gift Card.
Second and Third selected winners of the "Cool in Dad" contest will receive a $100 eGift card valid for purchases on iSkin.com. The card will be valid for 1 year from issue, valid for purchases at iSkin.com and conform to the standard terms and agreement of the iSkin eGift Card program.
iSkin Inc. designs and delivers an inspired line of superior products, accessories and enhancements for the iPod, iPhone, iPad, Macintosh, BlackBerry and other exciting digitial lifestyle solutions. Setting the standard for cool since 2002, iSkin gives its customers around the world an unmatched blend of design, technology, quality, fashion, selection and service.
An established, trusted and beloved brand, iSkin products are highly sought after around the world. Our online store features customer promotions, exciting contests, shipping cost discounts, product bundling specials, and more. For more on iSkin, visit http://www.iskin.com
For additional information on this and other iSkin products, please contact iSkin PR at press(at)iSkin(dot)com or at (416) 924-9607, ext. 248. Follow us on twitter.com/iSkin for live social updates.