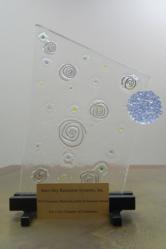 (PRWEB) June 16, 2012
Sure-Dry Basement Systems, Inc. was awarded the first-ever Exemplary Marketing and/or Performance Award during the Fox Cities Chamber of Commerce annual Business Awards Luncheon at the Radisson Paper Valley Hotel.
Each business applying had to demonstrate areas of outstanding achievement in four categories: style of communication, new technologies, traditional marketing channels, and results of these marketing efforts.
Candidate's applications had to meet pre-set criteria to even be considered as a finalist. After the judges looked at the businesses that met these criteria, three finalists were then selected and not announced until awards day. The three finalists were Affinity Health Systems, Cold Stone Creamery, and Sure-Dry Basement Systems.
Affinity Health Systems is a regional integrated health care delivery system that has 4,056 employees. They have three hospitals and 26 clinic locations as well. The other finalist, Cold Stone Creamery, is an ice cream creations, cakes and desserts eatery with 25 employees at two locations.
Other business considerations for the finalist position were: Avenue Jewelers, Fox Valley Technical College, Rates in Motion, and Turek's Plumbing Services.
Sure-Dry Basement Systems has been serving valued customers in Wisconsin since 1994. They are dedicated to providing quality services that help homeowners with any basement or crawl space problem they are experiencing. Sure-Dry has recently implemented the use of new marketing technologies and has used existing technologies in new, innovative ways. This gave them an advantage in the run for the Exemplary Marketing and/or Performance Award.
They have also used existing and traditional marketing communication channels in highly creative ways to promote business products and services. This resulted in increased web traffic, revenue, and national and international visibility. For more information about Sure-Dry Basement Systems and the services they offer, contact them today for a free basement waterproofing estimate in Oshkosh, and the surrounding areas in Wisconsin.