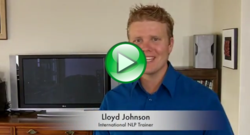 Confident Future International has publicly committed to freely sharing NLP with at least one million students by the end of 2015.
Perth, Australia (PRWEB UK) 15 June 2012
Confident Future International has today launched an Online NLP Training Course that allows people in rural areas of Europe, Africa, Asia, America and Australia to begin to learn Neuro-Linguistic Programming (NLP) as used by celebrity Anthony Robbins 2012.
In addition to launching an Online NLP Training Course, Confident Future International is also making available a free starter course for the first one million students.
"For far too long NLP has been hidden in expensive courses and only available to the select few with time, money and their location on their side. It isn't fair that NLP isn't available to people just because they live in the country or rural parts of the world," said Lloyd Johnson, Lead Trainer of Confident Future International.
Normally NLP is taught in 7 day courses in the hotel seminar rooms of major cities. Information on the Internet has traditionally been of low quality and disjointedly presented. This offering from Confident Future International is the first structured training course to be offered online. What this means is that those who are living in rural areas are now able to gain access to this cutting edge communication technology. These tools and techniques help people in their relationships, with their family and to further their business. With the increasingly global nature of the world it is important that education is equally available to everyone, regardless of their location.
It's usually little known that exceptional and popular TV programmes such as Derren Brown's Assassin extensively use NLP techniques.
According to the Population Division of the United Nations Secretariat in these continents between 33-91% of people live in what are considered rural areas. This Online NLP Training Course means that over a billion people who were previously unable to access Neuro-Linguistic Programming will now have access available to them.
To learn more about NLP or for information about the free starter course, visit http://www.confidentfuture.com.au
About Confident Future International
Founded in 2008 Confident Future International is the world's leading online NLP Training Organisation with students in over 68 countries. Neuro-Linguistic Programming is a cutting edge communication tool with applications in Business, Therapy, Persuasion and Education. Confident Future has publicly committed to freely sharing NLP with at least one million students by the end of 2015.
For additional information on Confident Future International or the Online NLP Training Course, contact Lloyd Johnson or visit http://www.confidentfuture.com.au
Media Contact: Lloyd Johnson