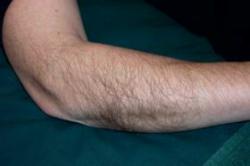 The specific physics and light based knowledge I use is the newest and most advanced, combined with the most advanced technology on the market - it gives advantages others do not!
East Greenbush, NY (PRWEB) June 15, 2012
Nolan's Electrolysis Too manicures the body hair of East Greenbush residents with laser/IPL hair removal, electrolysis, and laser hair restoration treatments. "Since laser hair removal uses progressive technology over standard needle electrolysis, I strive to stay up to date with the newest and most technologically advanced equipment available," says Nolan. Nolan recently completed The Society for Clinical and Medical Hair Removal's program to become a Certified Medical Electrologist. He states that his extensive CME training compels him to recommend that all hair removal patients seek a professional with these qualifications for the safest and most medically competent treatment.
The Society for Clinical and Medical Hair Removal (SCMHR) issues electrologists with the first professional certification ever offered. Initially, specialists complete training as a Certified Clinical Electrologist, or CCE. Electrologists adding hair removal to their practices can then use their CCE training as a prerequisite for training as a Certified Medical Electrologist, or CME. After completing both programs, Nolan says, "CME's can feel confident in their own ability to provide patients with the safest and most effective hair removal techniques."
All allied health practitioners, including electrologists, physicians, and nurses, can test for CME certification. The credential is required for any Florida practitioner offering laser- or light-based hair removal treatments, and many states are considering requiring certification. Nolan encourages patients to check electrologists' credentials with the SCMHR. Nolan offers his certification number, M03060507, and encourages patients research their electrologists certifications.
Nolan's Electrolysis Too uses laser treatments to clear thousands to millions of hairs in an hour, marking a distinct advantage over other hair removal treatments. The average patient needs seven to twelve treatments to permanently clear 60 - 90% of pigmented hairs in an area. Specialists may totally clear a specific body area at the first visit, and schedule follow-up visits until hair roots stop producing. Laser treatment does not require hair to grow past the surface for removal.
About the company:
The mission of Nolan's Electrolysis is to permanently rid unwanted hair from their patients in a pain free, and totally relaxing environment. They use the newest computerized equipment to provide gentle, safe, permanent laser hair removal treatments for men and women, as well as laser hair restorations (laser hair loss treatments) and nonsurgical face lifts (photo facials). They specialize in tough cases of hair removal & electrolysis. For more information visit their website at http://www.nolanselectrolysistoo.com.