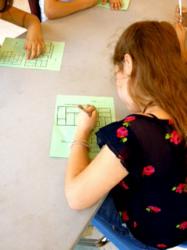 'KenKen is a wonderful vehicle for teaching many things; among them number sense, perseverance, and a joy of mathematical thinking!' -Josh Rosen
Dobbs Ferry, NY (PRWEB) June 14, 2012
Springhurst Elementary School held its first KenKen® challenge this past week in Dobbs Ferry, NY. Over one hundred 2nd-5th grade contestants gathered in a Springhurst classroom lined with KenKen Challenge posters to compete in the First Round of the challenge on June 4th and 5th. After successfully completing the First Round, finalists from all four grades anxiously waited to compete in the Finals Round one week later on June 11th.
Josh Rosen, a teacher at Springhurst Elementary School, first came up with the KenKen Challenge idea after attending a tournament held in Chappaqua, NY in 2011. While preparing the school for the challenge in the weeks prior to the event, Rosen was thrilled to see excited students "practicing like crazy" for the big day. With the help of Robert Fuhrer, whose company, Nextoy LLC, brought the puzzles to the United States in 2008, Rosen organized the challenge to include everything KenKen; Kencils (the KenKen version of pencils) were provided to all challenge participants, KenKen Books were awarded to the challenge winners, and KenKen certificates, signed by Robert Fuhrer himself, were given to all contestants who participated. And he didn't stop there; Rosen also decked the walls of Springhurst with KenKen Challenge posters in the days leading up to the event.
KenKen logic puzzles were first invented in Japan in 2004 by Tetsuya Miyamoto. With a main goal to improve his students' math and logic skills in mind, he developed a puzzle that would be understandable, fun, and challenging for students of all levels. In 2008, Robert Fuhrer brought KenKen puzzles to the United States. Not long after, KenKen became a certified phenomenon, with more than 1.75 million puzzle books sold and regular puzzles appearing in The New York Times, Boston Globe, Detroit Free Press, Readers Digest, and on NYTimes.com. Translated as "wisdom squared" in Japanese, KenKen requires simple arithmetic calculations and logic to decipher the creative puzzles. With a range of difficulty levels, KenKen improves what Mr. Miyomoto ultimately aimed to improve: logical thinking, concentration and perseverance.
Josh Rosen is a firm believer in the benefits KenKen has to offer, stating "KenKen is a wonderful vehicle for teaching many things; among them number sense, perseverance, and a joy of mathematical thinking!" And naturally, Rosen is only one of thousands of teachers jumping onto the KenKen bandwagon. KenKen has become a go to tool for teachers world wide seeking to improve students logical reasoning in an engaging way. Not only has the KenKen.com website reached its 100 millionth KenKen puzzle played online, the puzzle has also reached out to nearly 10,000 new teachers in the past year alone. Given the evident benefits that KenKen has to offer in the classroom, it is no wonder that more and more teachers are catching on to the KenKen trend.
People can play KenKen puzzles for free online at the KenKen.com website, where books of KenKen puzzles, from easy to difficult, are also available for purchase. As of recently, people can also enjoy KenKen puzzles on the KenKen app for the iPhone and iPad. Additionally, KenKen has joined forces with highly recognized educational institutions, including The Math Forum at Drexel, one of the most popular online sites for math education in the world, and the National Council of Teachers of Mathematics (NCTM).
About Nextoy:
Nextoy LLC was founded in 1981 by Robert Fuhrer. For more than 30 years, Nextoy has been connecting original toy and game ideas with the people who market them. Nextoy acquired the worldwide rights for KenKen in 2007 and serves as product placement specialists in the fields of toys and games, publishing, gifts and novelties. Nextoy, LLC clients include: Hasbro, Mattel, SpinMaster, The Sharper Image, Uncle Milton Industries, Crayola, Bandai Japan, Irwin Toy, Basic Fun, St. Martin's Press, HarperCollins, Capcom, Goliath Games, Seven Footer Press and Winning Moves Games.