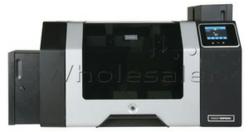 We anticipate that the new HDP8500 will be well-received by organizations with high-capacity printing and robust security requirements.
Chanhassen, MN (PRWEB) June 14, 2012
The new industrial Fargo HDP8500 ID card printer is now available at ID Wholesaler, the largest retailer of photo identification products. The latest addition to the Fargo HID printer line-up is designed to meet the needs of large government entities, service bureaus, universities, and large enterprises. It's loaded with features, many of which are not found in any other ID card printers on the market today, such as its industry-first 3.2" touch screen status display.
"We anticipate that the new HDP8500 will be well-received by organizations with high-capacity printing and robust security requirements," says Jennifer Clancy, marketing manager at ID Wholesaler. "It's an exciting addition to our line-up of ID card printers!"
For superior print quality on any card type, the HDP8500 features high definition printing (HDP), also known as retransfer printing. Cards printed on a traditional dye sublimation printer come in direct contact with the printhead which can affect image quality. The HDP8500, on the other hand, prints images on HDP film that is then fused to the card with heat and pressure for flawless printing on any surface.
With a heavy duty metal enclosure, dual input hoppers, and powerful stepper motors, the HDP8500 can endure long print shifts with minimal operator intervention. To protect the card printing program's integrity, the HDP8500 features the highest level of security available, including physical locks on all access points, electronic PIN access, advanced data encryption, and a resin-erase feature to remove personal data from ribbon panels. In addition, the printer can produce ultra-secure ID cards with UV printing, holographic retransfer film, or holographic lamination.
A built-in airflow and filtration system, dust seals, in-line cleaning stations, and internal temperature sensors maintain optimal printing conditions within the printer, resulting in a flawless operation – even for businesses with non-climate controlled areas, high heat, and dust.
The HDP8500 is fitted with USB and Ethernet connectivity, allowing operation with a single computer or over a network. Plus, the printer can be upgraded at any time for added functionality and productivity with dual-sided simultaneous lamination, a card flattener, andon product status light, and/or a range of card encoding options.
"We encourage businesses interested in the HDP8500 to give our ID Professionals a call to discuss their specific needs," says Clancy. "The HDP8500, as well as many of the other ID card printers we offer, can easily be customized. Our account managers are highly-trained to align customers with the best printer model and features to meet their specific card printing goals."
To learn more about the Fargo HDP8500, visit IDWholesaler.com or talk to an ID Professional at (800) 321-4405.
About ID Wholesaler
ID Wholesaler is the largest online retailer of photo identification products, serving its clients with guaranteed lowest prices, expert advice, and free support on everything they sell. ID Wholesaler stocks a broad selection of ID card printers and systems, ID software, supplies, and accessories from the leading manufacturers. For more information visit http://www.IDWholesaler.com.