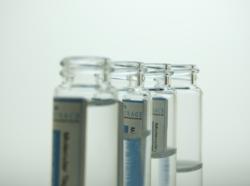 Instant field identification of product dilution and mix ratios make the Microtrace Molecular Taggant a very powerful new technology for brand protection.
MINNEAPOLIS, Minnesota (PRWEB) June 20, 2012
Microtrace, the original taggant company and leader of the taggant technology evolution for over 26 years, announces a revolutionary taggant technology. The new Microtrace Molecular Taggant changes possibilites for taggants.
Taggants are microscopic / nano materials or chemistries that are uniquely encoded and virtually impossible to duplicate—like a fingerprint. Taggants are popular solutions to a variety of brand protection, counterfeiting and product authentication problems. All taggants available have had limitations…until now. Impossible applications are now possible with the Microtrace Molecular Taggant.
Applications now possible with Microtrace Molecular Taggants:

Dilution detection – as low as 10%
Detection of mix ratios
Completely invisible and otherwise undetectable Taggant
Low loading ratio; economical tagging of high volume bulk materials
Soluble Taggant for fluids
Standoff Detection
Molecular Taggants
Microtrace Molecular Taggants are unlike any other taggant technology. Available in multiple delivery formats, the use of trace amounts, ability to detect dilution, inability to be detected and replicated by counterfeiters, and simple, hand held, non-destructive field testing all make the Microtrace Molecular Taggant a revolutionary taggant technology. By relieving these limitations, the Microtrace Molecular Taggant changes the way companies address brand protection, counterfeit and product authentication issues.
Well suited for all types of materials and surfaces, Molecular Taggants can be delivered in any of the following formats:

Formulated with customer raw material
Plastic masterbatch
Security ink
Spray carrier
Company Information
Founded in 1985, Microtrace, LLC. is located in Minneapolis, Minnesota, USA. The company provides a number of ready-to-use and custom anti-counterfeiting, identification and authentication solutions to virtually all industries and many governmental organizations worldwide. As a leader in covert identification and anti-counterfeit technologies, Microtrace offers a variety of solutions including multiple taggant technologies, laser systems and security labels. For more information, please visit http://www.MicrotraceSolutions.com