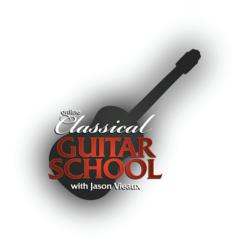 I want access to Classical music education to be limitless – and through my new online guitar school we have achieved that goal. - Jason Vieaux
Napa, CA (PRWEB) June 20, 2012
ArtistWorks today announced the launch of the new Classical Guitar School with Jason Vieaux. This revolutionary online school, the first of its kind for classical guitar, enables students from around the world the opportunity to study with Jason Vieaux from the comfort of their own home.
Vieaux currently serves as Head of the Guitar Departments of both the prestigious Curtis Institute of Music and the Cleveland Institute of Music. Before partnering with ArtistWorks, Vieaux's definitive classical guitar method was only available to less than a dozen students each year. Now anyone wanting to learn how to play classical guitar can join Jason Vieaux's online guitar school and receive the same one-on-one instruction previously only available to a select handful of individuals.
The Classical Guitar School with Jason Vieaux utilizes ArtistWorks' Video Exchange™ Accelerated Learning Platform to create a self-guided, personalized educational experience. Members go through the video lessons at their own pace, which include all levels of classical guitar from fundamentals to advanced techniques. Each of the classical guitar lessons are offered with multiple angles, slow motion isolation, and video looping for optimal learning.
Players can then submit practice videos to the site for Vieaux to critique. Vieaux reviews each submission personally and records a video response, providing feedback and instruction for how the student can improve. These "Video Exchanges" are made available to the entire online community, creating a virtual classroom with an ever-evolving curriculum.
"So often in Classical Music, it seems there are so many barriers to studying the art form," says Vieaux. "There are incredible institutions at which to study, but there are obviously limits as to student capacity. I want access to Classical music education to be limitless – and through my new online guitar school we have achieved that goal."
One of the "youngest stars of the guitar world" according to New York Times, Jason Vieaux won the Guitar Foundation of America's International Competition at the age of nineteen. In addition, he is a Naumburg Foundation Competition top prizewinner, a Cleveland Institute of Music Alumni Achievement Award recipient, a Salon di Virtuosi Career Grant winner, and a former NPR Young-Artist-in-Residence. In 1995, Vieaux was an Artistic Ambassador of the US to Southeast Asia, touring seven countries. Widely recognized as a contemporary modern guitarist who specializes in Spanish and baroque music, Vieaux has 12 albums to his name and continues to perform for audiences worldwide.
"Allowing everyday players around the world access to a virtuoso of Jason Vieaux's caliber is what the ArtistWorks mission is all about," says David Butler, CEO of ArtistWorks. "We believe this kind of global access, combined with community and personal interaction will make it easier for everyone to experience the joy of playing music."
"ArtistWorks is making it easy for everyone to experience the joy of playing a musical instrument," says David Butler, CEO of ArtistWorks. "We are now exceptionally proud to offer players of all skill levels this great way to study and interact directly with classical guitar virtuoso Jason Vieaux, a historic first."
Subscriptions are reasonably priced at $90.00 for 3 months, $150.00 for 6 months and $240.00 for a 12-month subscription.
For more information about online guitar lessons visit: http://www.jasonclassicalguitar.com
About ArtistWorks, Inc.
Founded in 2008 by former AOL executive David Butler, ArtistWorks, Inc. is a Napa California-based technology and music education company that provides a global online learning community of world renowned artists and enthusiastic amateurs dedicated to unleashing the music that lives within all of us. Its Video Exchange™ Accelerated Learning Platform enables virtuoso musicians to "teach the world" by presenting their full method, technique or lesson curriculum in HD video to subscribing students. Utilizing simple web cams, iPhones, iPads and more, students are able to submit videos for individualized video feedback and guidance - creating a two-way, online learning experience.
ArtistWorks currently offers music schools from such world-class, virtuoso artists as: Paul Gilbert (rock guitar lessons), Andreas Oberg (jazz guitar lessons), Martin Taylor (fingerstyle guitar lessons), Jason Vieaux (classical guitar lessons), Howard Levy (harmonica lessons), DJ Qbert (DJ lessons), Christie Peery (piano lessons), Thomas Lang (rock drum lessons), Billy Cobham (jazz and fusion drum lessons), Luis Conte (percussion lessons), as well as the ArtistWorks Academy of Bluegrass with Tony Trischka (banjo lessons), Missy Raines (double bass lessons), guitar player Bryan Sutton (flatpick guitar lessons), Andy Hall (dobro lessons), Mike Marshall (mandolin lessons), and Darol Anger (fiddle lessons).